A team of robotic harvesters named 'Sprout' will pick asparagus in Herefordshire this season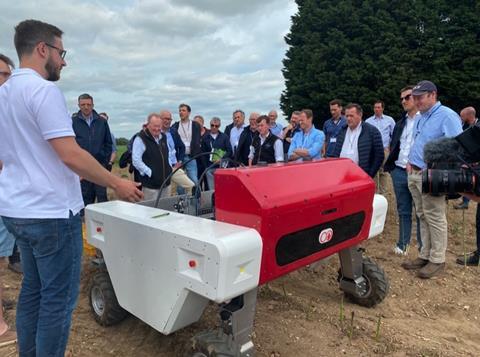 A 'herd' of robots is to be released into the English countryside to commercially pick British asparagus for the first time this coming season.
Muddy Machines – the robotics company behind the automated vegetable picker 'Sprout' – is gearing up to launch five robots to work in unison at Cobrey Farms in Herefordshire from 1 April.
The robots, each equipped with five asparagus harvesting tools and designed to pick accurately for up to 16 hours a day, are expected to achieve the work of "several" human labourers, Muddy Machines CEO and founder Florian Richter told FPJ.
"This is a huge milestone for us. We are working towards harvesting as a service, and we hope to demonstrate some really strong harvesting work this season," he said.
"I think every robotics company is striving for that proof point where it can say: 'look at this. This is no longer a prototype, this is a workhorse. This thing is really replacing several workers and is making a difference'."
Muddy Machines developed its herd of Sprout robots, which were manufactured inhouse at the company's Hayes headquarters, following a cash injection last August.
The UK ag-tech and robotics firm received a £1.5m round of seed funding led by Regenerate Ventures, which specialises in investing in technologies that help farmers produce food with less impact on the environment. It was supported with participation from Ponderosa Ventures, Jude Gomilla, Thrive/SVG Ventures, Science Angel Syndicate and others.
"Our seed funding round was to a large extent to secure the match funding to get our Innovate UK grants financed that were new last year," Richter explained. "I can't understate how important Innovate UK funding is for us. Because it plugs the funding gap where VCs [venture capital companies] want to see significant revenues, but as a robotics company, you kind of need robots to generate revenues, but need money to build the robots. And it's something that you can't do on a shoestring budget. So that's been very, very important for us."
The next stage for Muddy Machines is to develop its vision of becoming a robotic harvesting platform for a range of horticultural crops, said Richter. And, to achieve that, the firm is interested in partnering with other tech companies, he revealed.
"We are currently working on a feasibility study with [grower] Barfoots, harvesting Tenderstem broccoli and courgettes," he reveals. "We are going to wait until the end of the project later this season to see which of the two we will commercialise and push further.
"In the meantime, though, we are super interested to speak to other robotics companies who have built a good harvesting application but are looking for an automated drive-train or micro tractor. Sprout is such a good drive-train that is weatherproof and very robust. So if someone has built a harvester or a weeder, or anything that helps the horticultural and farming industry, and needs a drive train, we'd love to hear from them!"
Muddy Machines was founded in June 2020 by entrepreneurs Chris Chavasse and Florian Richter via Zoom during the first Covid-19 lockdown.
The pair worked with UK asparagus grower Cobrey Farms throughout 2021 to test and hone an automated solution to asparagus producers' labour-shortage problems.
The results exceeded the expectations of Cobrey Farms' Chris Chinn. Using deep-learning technology, Sprout can detect spears along a row and pick them according to grower specifications. "This is a really exciting project," he told FPJ in 2021. "I was sceptical at first and certainly didn't expect the machine to be so successful."
Sprout is lightweight and fully electric.