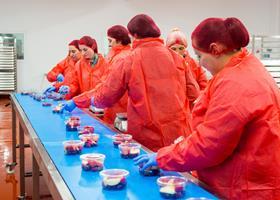 Chambers is launching the first branded, prepared berry product on the UK market by making The Fruitery business into a proprietary brand.
The Fruitery was launched by Chambers in February last year, making Chambers the UK's only specialist fruit grower to have its own prepared fruit facility, created in response to demand for healthy snacking options.
Chambers says it now wants to roll out the Fruitery brand to "wider distribution channels" and has already begun a "seeding programme" with Westminster Kingsway College, in London.
Chambers' commercial director James Miller said the business will now be rolling out the pots as a "proprietary brand", alongside its white label offering.
The Fruitery's pots feature a medley of berries, which boast two extra days of shelf life according to Chambers, thanks to its direct access business model.
"The Chambers business model is based on four key pillars, growing, packing, importing and prepared, all of this is underpinned by an ongoing commitment to innovation and tracking current and future market opportunities," Miller said.
"The Fruitery has been well received within the industry and our advantageous reduced supply chain timeline, £2m investment in the high care facility, BRC accreditation and ability to provide a seamless year-round supply of berries direct from the grower resonates favourably with our customers.
"We are now keen to pursue wider distribution channels for the product including culinary professionals with whom we have already started a seeding programme via the renowned Westminster Kingsway college in London.
"We believe that The Fruitery can operate successfully as a proprietary brand, alongside the existing white label business, leveraging the successful supply chain model pioneered by Chambers."
Chambers says the move towards the supply of fresh fruit under The Fruitery brand also enables the business to service the needs of the discerning culinary trade who, while acknowledging the benefits of The Fruitery's current catering pack and the extended shelf life, are more interested in buying larger volumes of fruit in a fresh rather than prepared format.