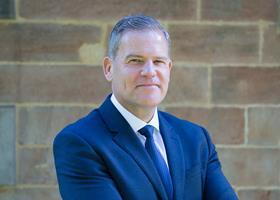 Taking the helm of a 147-year-old UK produce business comprising 12 wholly-owned subsidiaries and six joint venture companies would be daunting at the best of times. But in the midst of an unprecedented global pandemic, while Britain teetered on the brink of a possible no-deal Brexit? It's a task that's not for the faint-hearted.
Yet Martyn Fletcher didn't just join Fresca Group as chief executive last July during one of the most turbulent periods in UK history; he cut short a brief spell of consulting to return to the food industry and "do his bit to help" at a time of unparalleled crisis.
Fletcher's actions are testament to his commitment to a sector in which he has spent all his professional life. "I've only ever worked in the food industry – man and boy," he tells FPJ. "Having that experience and not applying it [during this crisis] would have been a waste."
Fletcher's CV is intimidating: within the last ten years, he has assisted the turnaround at multi-billion-pound food operator Boparan Holdings (whose group of companies includes industry giants 2 Sisters Food Group, Northern Foods and Bernard Matthews) and led major change projects at Morrisons as group retail director. Yet the man himself couldn't be more approachable, grounded and gracious.
A consummate communicator, Fletcher speaks eloquently about the resilience of the produce industry, and how this quality seems ingrained in the people working within it – himself included. "I think we all draw upon our resilience at these challenging times, and I think the entire industry has demonstrated its collective worth in that regard," he says, explaining how he approached this new role at Fresca as the world was turned upside down.
It was his uncle, a market-stall owner in Yorkshire, where Fletcher grew up, who gave him his first 'job' in food, offering his young nephew valuable insight into the business when he helped out at weekends. "My uncle always said that food is the best industry to be in because it's really fast moving, but that success would depend on having the right range at the right price, available at the right quality," Fletcher recalls. "If you can do those things well, you'll be a winner, he said – and that's something that has stuck with me all along."
A first-choice partner
In the broadest terms, Fletcher is applying this success criteria to Fresca. His ambition, he says, is that Fresca always maintain itself as the first-choice produce partner for UK supermarkets. To that end, the business's Paddock Wood-based Fresh Produce Centre (comprising Mack Fruit, FreshPlus and The Avocado Company) is undergoing a comprehensive restructure after posting an operating loss in the last financial year (to April 2020).
"We are reshaping our operations there around the service provision business FreshPlus to make it more competitive going forward. We've also made changes to the leadership team there, both operationally and commercially, to give it a new fresh direction – particularly for the Mack Fruit business," says Fletcher.
"It's about making it a more compelling proposition to retailers." Fantastic progress has already been made in this endeavour, he adds, which will be reflected in its results in the coming years.
The rest of the group, meanwhile, has "done extremely well". Fletcher singles out The Avocado Company and Fresca's internal customsclearance business, Fresh Clear, as noteworthy 'winners' in 2020 – the latter proving to be a particularly wise pre-Brexit investment for the business. "I know we have a group of high-performance companies that can do even better in the future," he says. "I think the group overall has weathered the storm, particularly the coronavirus scenario, extremely well – and that is down to the community of our people."
Sustainable approach
Fresca was fortunate that some of its major investment projects, notably new state-of-the-art packing and ripening facilities at Primafruit (Evesham) and the upgrading and expanding of growing, packing and storage areas at DGM Growers (Holbeach) were comfortably completed before coronavirus hit.
"Future plans are to maintain that momentum," Fletcher reveals. "Particularly the growth of the DGM business with a new UK-first production facility, which is hugely exciting. It will help deliver part of our strategy to continue to invest in UK growing, and to continue our drive to be more vertically integrated – a route the business has been pursuing over the last few years."
In that regard, The Avocado Company recently entered into a joint venture with Colombian avocado grower Cartama, whose first commercial crop will arrive in the UK next year. "We're particularly proud of this, as it embodies everything Fresca stands for," says Fletcher. "It is socially responsible – it offers a foundation school for its workers' families; it values the environment – it farms on land previously used for cattle grazing that's at altitude so doesn't require irrigation; and, to boot, it produces the very finest Hass avocados.
"We are determined to make Fresca companies known for doing all that – being a good citizen, having a purpose, and doing business in a mindful way," he adds. "That's a really big part of our future."
Worker worries
Back in the present, though, and there are a number of immediate challenges the group must navigate – not least the impact of Brexit. "I guess we always knew it was never going to be easy," says Fletcher. "We're pleased the government eventually got a deal, but it's going to take time for all these new regulations, rules and import requirements to settle down a bit, most certainly from a logistics point of view.
"Our Fresh Clear team have worked around the clock to smooth the path of products into the UK through those new regimes, and we're very happy with that. Longer term, though, we still have some major concerns about the availability of labour."
Fresca relies on non-UK workers in all areas of its business, Fletcher explains, so will undoubtedly be left with an expensive challenge trying to keep its businesses staffed and competitive going forwards.
His broader concern, however, is about the potential for worker exploitation this labour shortage will bring. "Criminal minds tend to take advantage of these situations," warns Fletcher. "The whole industry needs to invest more resources to help identify where victims of modern slavery could be in their business, and must work to eliminate opportunities for exploitation.
"I think this issue has been lost in the bigger challenges of getting a Brexit deal, but now that chapter is closed, the new chapter should look at its impact in more detail."
Production promise
There is, nonetheless, a positive side to Brexit, Fletcher believes. "It presents us with a really exciting future," he says. "Our prediction is that the market will demand more UK-grown product. It's 13 years since Fresca went public about plans to start our joint venture in Thanet Earth, and with some £150m spent in that time, Thanet has grown to produce 20 per cent of all cucumbers grown in the UK, 14 per cent of all tomatoes, and 13 per cent of all peppers. It's made great strides. There's clearly a major gap in UK production to reach 100 per cent. Will we ever do that? Probably not, but there's a lot of scope for progress."
Ever the pragmatist, Fletcher is confident Fresca will find a way around the labour and planning permission hurdles to achieve this production growth. "As is always the case, market conditions will prevail," he says. "We rely very heavily on our retail contracts, and the retailers reflect and represent consumer demand. If consumers want more UK product, then we will have to lay down more capacity, and the national infrastructure will have to be developed to meet that demand.
"There is a gap in the UK to be filled," Fletcher continues. "By bringing the right people together, we think we can still build on this long-term vision and foster the very best foundations for growth in the future."
'Doing business the right way'
It was precisely to fulfil this ambitious growth strategy that the Fresca Group board appointed Fletcher in July last year. And in just over five months, the Yorkshireman has not only led the organisation through the complexities of coronavirus and Brexit, but – after taking time to understand, as he puts it, "what makes Fresca tick" – has already set out a clear path to achieving the group's goals.
"I am determined that Fresca be seen as the first-choice partner to our retailer cousins and the first-choice employer for the best minds in the industry," he says. "Commercially, I am very keen to secure long-term arrangements with our retail customers and foster the conditions where partnership can really work. We've got some really good examples of that already with Primafruit and our Manor Fresh joint venture. And we are about to embark on some further large investments at the Fresh Produce Centre in Paddock Wood to help complete the transformation of this part of our business, making it a really strong commercial proposition going forward.
"The UK fresh produce industry is lacking in gender diversity and representation from the key sectors of society," he continues. "I'd like to try and tackle that if I can with a programme of development. I'd also like to bring in some more young talent to effectively grow the future industry leaders ourselves.
"I think the things that matter to Fresca people also matter to me," Fletcher concludes. "[Chairman and descendent of the company founder] Chris Mack's vision for doing business in the right way – that benefits people and the planet – that really struck a chord. So when I decided to join this business, I knew I was joining a business that cares."