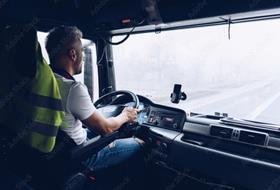 I think it's fair to say we all began 2021 thinking something along the lines of "well it can't be any worse than 2020", but as we come towards the end of what has been another volatile year, I am not sure our hopes from back in January have been proved right.
The year has been characterised by yet more supply chain shocks. The big fear for the fresh produce supply chain is that this will all come to a crescendo just before the all-important Christmas period of trading and will round off what has been, for some, a turbulent 2021.
Now many are asking what might happen in 2022. In a volatile time, such as we have now, this can be challenging, but "looking back to look forward" is one way of doing this.
So, what has happened in 2021? The answer is lots, including:
The issue of staff and labour:right across the supply chain, from the farm through to packing/storage, the onward distribution of products and then POS, at both retail and in foodservice, this has been a major headache all year. Do we see a sudden influx of labour coming into the supply chain over the next few months? In short, no. It's going to continue to be a busy, and at times stressful, time in the supply chain.
Energy costs:we have seen a tremendous spike in the cost of energy since the September/October period, but none of the fundamental causes of these increases have gone away and we will see these persist into the New Year.
Trade friction: at the start of the year, we reached a position with the rest of the EU that saw no tariffs and/or quotas on trade. The role of non-tariff barriers though has proven to be far more of an issue for UK companies. But what did we really expect? We have, in effect, ended a 40 year marriage with the EU. To expect relationships to be normalised after only a few months was unrealistic. It might be several years before this is all ironed out and we are back on "good speaking terms". The UK has never been a major supplier to the rest of the EU for fresh produce, but trade in dairy, meat and seafood products have all probably been more adversely affected. We are of course a big importer from the likes of the Netherlands, France, Italy and Spain.
Disruption to supplies: we have seen some fresh food shortages, but these have been quite short lived, in most instances. Food shortages imply empty shelves for prolonged periods of time. We won't see this, but what we will probably see is more periodic disruption to the seamless flow of fruits and vegetables into supermarkets we are so accustomed to.
Foodservice:boom or bust? Consumers, having not been allowed out for Christmas last year, seem determined to make up for lost time and bookings for pub meals and restaurants are at a high level. Over the next few weeks, however, the likely spread of the new Covid variant, Omicron, might well see them decide to stay closer to home. The foodservice sector will therefore be on something of a knife edge over the next few months or so as consumers decide whether to come out to play or stick at home.
Consumers buy early and online:there is lots of evidence that consumers have begun to shop for Christmas much earlier than they have traditionally done in the past. The likes of Kantar have released quite a lot of data to show this. In the last 18 months, we have gone through the somewhat still experimental phase of online shopping to developing a full-scale obsession with it. This Christmas, we will see more food bought online than ever before. Good news for the online retailers such as Ocado etc. but probably less good news for more bricks-and-mortar-based retailers
So, what sort of 2022 will the fresh produce industry have?The factors mentioned above all need to be evaluated, but we do not, in the short term, see anything fundamentally changing from what has been happening over the last 11 months.This might, to some extent, all be accentuated for a short period of time over the actual Christmas period.
What we have seen is that supply chain shocks of whatever nature simply speed up, in most cases, what has already been happening.
Is it all bad?
So much depends on what happens over the next few weeks with Omicron, of course.Until recently though, some of the banks forecast that the UK economy will recover strongly in 2022 – maybe with GDP growing by as much as six per cent. This will begin to make life a bit easier for most in the produce supply chain, including consumers.
Online sales are still rocketing ahead. Some entrepreneurial producers have found new markets in the Gulf and SE Asia. The seasonal worker scheme has recently been extended.The UK market, despite all its challenges, still looks an attractive market with US, German and Russian companies all looking to invest in the retail space.
Interest in horti-tech products, technologies and services has never been higher as a solution to issues such as labour, but the proof will, as always, "be in the pudding". Money has been pouring into vertical farming projects, not just in the UK, but in many other parts of the world too.
Looking forward
While the UK fresh produce supply chain has been much more vulnerable than we would like over the last 18 months or so, and may continue to be so, we must remember it has also shown itself to be very resilient. The leading chains and their suppliers have been working tremendously hard to make sure any future disruption doesn't happen beyond a modest scale.
There is further work to do though; getting the basics right is essential. Sticking very close to customers and working out what needs to be done and when. Having in place a "worse case scenario". Keeping staff informed as to what is going on and how the business is doing is important.
The need for good practice onenvironmental and sustainability issues is intensifying, with ambitious targets across the supply chain to reduce carbon emissions. It will be interesting to see what eventually comes out of COP26. A robust sustainability plan is now a "must have" for all produce operators, wherever they are in the supply chain.
Planning ahead for 2022 is critical too. Many of the factors we have mentioned here are not going to simply go away. Undertaking a proactive business resilience audit of the business is essential. Developing a really good sense of your forward and backward supply chain(s) is going to be critical. We have found in the past that too many companies do not have this.
In all this time of change, don't forget about the opportunities that might exist. This might seem a slightly trite thing to say, but we believe it to be true. It will, however, only be the businesses who have a well-developed plan for the future who will see, let alone take advantage, of them.
What is clear is that the UK produce sector hasn't seen the end of change. Indeed, post Brexit and post Covid we are probably likely to see a new wave of market and consumer trends take hold of the industry, and the rest of this decade will be characterised by the impact of the new trade deals we aspire to sign in the next few months and years.
John Giles is a divisional director with Promar International, the consulting arm of Genus plc and has worked on produce assignments in some 60 countries around the world including the UK, the rest of the EU, the Gulf, South Africa, New Zealand, Chile, India, China and Southeast Asia. He is also the chair of the annual City Food Lecture.