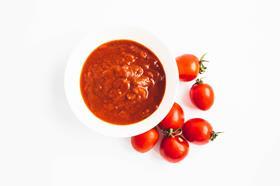 Tinned tomato prices could be set to rise in the coming months after circumstances combined to put pressure on supply.
According to Jason Bull, director at ingredients supplier Eurostar Commodities, the tomato market is looking much more expensive than last year, due to the increased cost of fresh tomatoes, tinplate and energy, together with low results of this year's crop, putting pressure on stock.
Wholesale prices for tomatoes are up 20 per cent already, Bull warned, and are predicted to grow to a possible 50 per cent increase as the 2021 crop is harvested and enters the market. He stressed that 'a significant proportion of this increase' could be passed on to consumers.
"Prices are increasing more than 50 per cent compared to pre-season 2020,' Bull said. 'Suppliers in Italy have now started to offer prices for this year's new crop, asking on average 20 per cent more than last year. In foodservice in the last few months, prices have not increased proportionally since demand was low. But now the market is restarting, and prices are going to the level we expect for the next crop."
The shortage and price increase will predominantly affect quality tomatoes picked and canned for freshness, Bull claimed. Tinned tomatoes feature as a key ingredient on supermarket shelves for everyday dinners including bolognaise, pasta sauce, chilli, soups and many other dishes.
Quality tinned tomatoes are also used in restaurants and foodservice, with hi-brix level tomatoes, for extra sweetness, being used in restaurants, catering, and foodservice sectors. Price increases will include whole tomatoes, peeled plum tomatoes and chopped tinned tomatoes, Eurostar Commodities predicts.