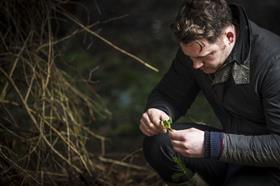 Opening a second restaurant and labelling almost half of the year 'the hunger gap' is an unorthodox way of promoting a new business, but that's exactly what Yorkshire chef-cum-farmer Tommy Banks has done with his new eatery, Roots, in York.
The hunger gap, he explains, is "that really difficult time" from January right through until June when very little fresh produce can be harvested in the UK, and if, like Banks, you almost exclusively cook your own fresh produce, it forces you to be creative. "In May all you want to do as a chef is just get some peas or courgettes on the menu," he says, "but spring vegetables are a bit of a misnomer – we can maybe get a few radishes, turnips and bits of lettuce but we haven't got enough to put a full menu together."
That's where preserving comes in, and it's something that Banks and his boundary-pushing team at The Black Swan at Oldstead – his family's established first restaurant in the North York Moors – have become obsessed with over the past few years. Naturally, the majority of produce grown in the chef's vegetable garden at the Black Swan is harvested between June and September (what he calls "the time of abundance"), but this does not mean it is the only time you will see that produce on the menu.
Fermenting, pickling, freezing, forcing, foraging, drying and even clamping – an age-old technique of storing root vegetables over winter by surrounding them with straw and soil – are all techniques that Banks and his staff have a passion for. And the chef's endless desire to find creative ways of making the most of his produce (and stay self sufficient) has spawned some amazing creations. A chickory root espresso martini, a potato and chickory root dessert and a carrot tiramisu are just a few hard-to-fathom examples.
The food wasn't always this way, Banks explains – but for a long time now it has been exceptionally good. "My family were farmers originally," he says, "but we bought the local pub and eventually decided to turn it into a restaurant." With former head chef Adam Jackson at the helm, the restaurant won its first Michelin star in 2012, and when Jackson left to set up his own the following year, Banks stepped into his shoes and successfully retained the star to become the youngest chef in the UK to hold the accolade. Fast-forward four years, and the Black Swan has won the almost fake-sounding title of 'best fine dining restaurant in the world' by TripAdvisor based on customer reviews.
"We got a lot of good press because I was only 24 and people were jumping on the bandwagon with that but I felt like I didn't have any originality here," he says. "I thought that if we could start growing all our own fruit and veg, and then preserve it in some way so we could use it all year round, that it would promote creativity. That was the initial idea and we just kind of ran with it from there."
Banks sees many advantages to growing his own fruit and veg: he can grow the precise varieties in the quantity he needs – think Crapaudine beetroot and Paris market carrots; he can harvest them when he wants, allowing him to use baby and unripe produce; and when he's not pickling he can serve fresh fruit and vegetables that he knows have been picked that day or the day before.
The other laudable benefit of being self-sufficient is that it cuts food waste. "You naturally don't waste things when you grow your own because you've put all that effort into producing it," he says. "You find ways of using it all, and opening a second restaurant has been good for this." At the Black Swan, for example, Banks and his team use the outer leaves of their cabbages as a wrap to be stuffed with duck meat, while all the hearts arrive at Roots where they are roasted and served with an elderflower vinegar and pickled wild garlic seeds.
Perhaps the most important advantage for Banks, however, is that it gives him a point of difference and helps him stay relevant. "You can make really creative and interesting dishes that other people can't replicate because they don't have the same little bits of produce," Banks explains, adding that he uses unripe strawberries on fish dishes and young sweetcorn that is so fresh it can be eaten like an apple.
His focus on preserving adds extra room for experimentation, and has led to some unusual discoveries, namely that sweetcorn, when fermented, tastes just like beer. "Nick, my development chef, got all of this really awful overgrown sweetcorn, spent ages trimming it up and put it to ferment," he says excitedly. "It's a really rich, starchy paste, which tastes sour and like beer, and a little bit like sweetcorn. It's delicious and it's made with stuff that would otherwise have gone on the compost heap."
Speaking to Banks, his thirst to continue experimenting and make use of every last scrap of the vegetables he grows is immediately apparent, but he certainly doesn't sound like a man with something to prove. He is unpretentious, despite his outlandish approach to food; he appears relaxed, despite being head chef at one of the most revered restaurants in the country; and he is humble, despite his lofty and somewhat accelerated achievements.
"It's important to stay grounded and focused on what you're trying to achieve," he says, "because if you start thinking about awards and accolades, it can take your eye off the most important thing, which is the food on the plate."
Banks is clear that his aim with Roots, which launched in September, was not to win another Michelin star. "I don't think many chefs actually think to themselves: I really want to get a Michelin star here," he says. "Clearly, it's nice, but what we're really trying to do is just improve the food and dining experience all the time." Fortunately, Roots has got off to a good start and its three-season concept, based on Banks' cookbook by the same name, has so far proved a hit with diners and critics. As mentioned, January until June is 'the hunger gap'; summer is the 'time of abundance'; and from September you enter the 'preserving season'.
Since the restaurant opened it has welcomed a steady stream of critics through its doors, with half a dozen reviews written about the restaurant in its first two months. By all accounts these have been very positive, withThe Guardian's Grace Dent scoring the restaurant nine out of ten for food, atmosphere and service, concluding that "the poster boy for British hospitality has another sure-fire hit on his hands".
The restaurant trade is a notoriously difficult one to survive in, however, and Banks is under no illusions as to the challenges he faces to make the restaurant work financially. "Historically, there's been a real problem with no-shows in the restaurant sector but thankfully now that is starting to improve," he says. "If you run a restaurant and you're quiet during the week and then busy at the weekend, you can't afford for somebody not to turn up and to lose that revenue. The overheads are high and the margins are very, very small."
Eradicating no-shows, for example by taking customers' credit card details and deposits in advance, is crucial, Banks says, and a step that many restaurants have now taken. "It's difficult because the consumer doesn't always like it but I think it's something that restaurateurs have to stubbornly stick at because it's for a greater good," he says. It means you can keep prices a bit lower, drive up the quality of your restaurant and pay your staff more, Banks says – and the last of these points is clearly important to the chef.
When asked what he is most proud of in his career to date, Banks does not mention the Michelin star, or his TV exploits – he won the fish course on the Great British Menu in both 2016 and 2017 – rather it is creating employment and a new demographic in his home village that is the most interesting thing about what he and his family have built at the Black Swan.
"We have 50 people working in Oldstead and pretty much all of them are aged from 18 to 35. Even at 35 you're about half the age of half of the inhabitants," he says. A lot of his young staff have relocated to the remote area, placing their career in his hands, and Banks says this is very humbling. "It's a big step to move out to the middle of nowhere, and you feel pressure to do well by these people. What critics and diners might say and write about you isn't as relevant really on a day-to-day basis."
Talking to Banks you get a real sense that he is cooking for the right reasons. Not only is he a huge proponent of seasonality, but he values his staff and understands the importance of not overworking them – all his chefs work a four-day week. "I just want to keep making things better," he says, and as a 29-year-old chef running 'the best fine dining restaurant in the world', who knows what he might achieve – or create – next.