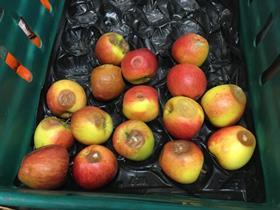 The Sheffield branch of leading wholesaler Total Produce has been fined just over £14,500 for displaying and marketing fruit that was rotting or had labelling omissions.
The four quality and labelling offences, identified in an investigation by the Animal and Plant Health Agency (APHA), related to mangoes, watermelons, Braeburn apples and strawberries.
The mangoes had 17 per cent rots, while 10 per cent of the Braeburn apples were either rotten, shrivelled or bruised.
Total Produce was fined £10,000 for the offences, along with prosecution and investigation costs of £ 4,574.
At Sheffield Magistrates' Court on 17 March the company pleaded guilty to the offences, which contravene the Marketing of Fresh Horticultural Produce Regulations.
Prosecution by the Crown Prosecution Service followed a series of escalated enforcement inspections between January and June 2019 performed by APHA's Horticultural Marketing Inspectorate (HMI), with evidence collected in September 2019.
Representing APHA's HMI, Kelvin Hughes said: "Consumers buy produce in good faith and need assurance as to the quality they source as well as relying on accurate labelling to know the provenance of these goods.
"Through the investigation our inspectors performed a series of escalating enforcement visits and issued a series of non-conformity notices.Despite this and working with the local branch and national company, non-compliance continued.
"As a result, in the interests of consumers, and the fruit and vegetable industry generally and locally, we moved to prosecution which has been concluded today."
A spokesperson for Total produce said the company wished to apologise to customers, explaining that "the failure resulted from higher market volumes and staff disruption caused by the acquisition and integration of the Hastings business in 2019".
They added: "Additional measures, including a new site layout to facilitate walk-through inspections, enhanced staff training and a written procedure for managing non-conforming produce, were subsequently put in place to ensure there would be no recurrence of such incidents."