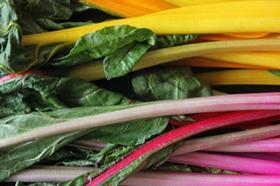 London restaurants will focus on serving more colourful and flavoursome produce this year, research by New Covent Garden Market has predicted.
According to the market's annualFruit and Vegetable Trends Report, last year's trend for coloured veg is also set to continue, with dinner plates poised to be brightened by a bumper crop of rainbow chard, mixed Chantenay carrots and purple sprouting broccoli.
Flavoursome fruits, a focus on British and a new wave of meat alternatives are also set to shake up the capital's foodservice sector, according to the market's traders who supply some of London's best-known restaurants, hotels, cafes and attractions.
While the vibrant colours of citrus fruits are already popular, the report forecasts an increased use of blood orange, tangerine and kumquats to offer a "unique flavour experience and add colour to the plate".
When it comes to berries, more exotic varieties are in demand. Fresh acai, goji and maqui berries are all becoming increasingly popular thanks to their colour and health benefits.
Stan Gulas at NCGM wholesaler Oui Chef reports that restaurants are increasingly priding themselves on serving British-grown produce, a trend set to peak in 2020.
Commenting on this, Martin Dykes at NCGM's Nature's Choice said: "Customers are opting for UK-grown produce, rather than just requesting the price.
"Along with the likes of British grown red and white chicory and westland crisp leaf, I predict that we'll start marketing our own nectarines and peaches in 2020. We now have trees from France planted in the UK, and with the stone fruit season starting earlier by one day each year, the fruit has longer to ripen during the summer."
The trend for plant-based and vegan dishes is also showing no signs of slowing down and many restaurants, cafes, bars and independent eateries introducing dedicated vegan menus, leading to increased demand for meat alternatives.
Banana blossom, the fleshy flower which grows at the end of a banana fruit, is one such alternative, along jackfruit which is in high demand and can be eaten raw or cooked.
Commenting on the rise of dedicated vegan menus, Georgia Kington from Fresh Connect at NCGM said: "Our customers want to be the first to showcase a new ingredient on their menus. Chefs are serving better quality, but less meat on their plates, so we find they are looking to fill the plate with premium veg instead, which appeals to diners cutting down their meat intake.
"People are also looking to make more sustainable food choices, which means we're having to think carefully about everything from the fruit and veg we stock, to how we get it from field to fork."
When it comes to sustainable practices, the report says businesses will go further in 2020 and look at how they can cut back on waste in all areas. London Zoo is currently working with the NCGM to find ways of reducing plastic throughout the supply chain.