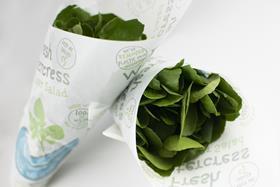 The Watercress Company has taken inspiration from the past by re-introducing traditional watercress bunches wrapped in 100 per cent biodegradable paper.
Watercress was popular in Victorian times when it was sold at provincial markets across the country in bunches tied at the base. These were for people to eat on the move like an ice cream cone.
The convenient and affordable format allowed city and factory workers alike to benefit from the nutritious leaves. In more modern times this format did not suit retail specifications and watercress moved over to plastic bag packaging.
Now, with the global demand to reduce plastic use, The Watercress Company has re-introduced fresh watercress bunches, but this time they are wrapped in sustainable paper made in the Lake District and printed with natural, British ink.
The paper is lightly coated in biodegradable plant wax to make it waterproof and the wrap is suitable for home-composting.
Tom Amery, managing director of The Watercress Company, explained: "We have been looking at various alternatives for plastic free packaging for years, but nothing in the market currentlymet our criteria so we decided to find the solution for ourselves.
"Over the years we were regularly asked by individuals who remembered watercress sold in bunches: Why can't you sell it like that anymore?'We decided the inspiration for the future could be in the past.
"We're delighted with the result and are confident that our new bunch format will appeal to consumers seeking an ethical solution to packaging that not only keeps the watercress fresh but underlines its provenance and the timeless farming methods used to produce it."
The 150g bunches are significantly larger than the supermarket bags of 85g so they are well suited for use in multiple dishes or in batch cooking.
TWC said the bunches can be stored upright in the fridge door like a milk bottle or the watercress can be frozen in its wrap, compacted down, for later use in soup.
The watercress is unwashed, so the leaves suffer less bruising and have a longer life. The watercress is also cut longer, providing more stalk, which is good for whizzing into smoothies, soups or pestos, while the leaves can be used in salads.
Amery said: "We are confident that our new watercress bunches will prove really popular and online delivery and phone orders are helping us meet an immediate need as a result of coronavirus.
"We expect the bunches to particularly appeal to the independent sector, which is where our initial focus lies.However, in due course we will look to extend distribution of the traditional handcrafted bunches through regional and fresh produce markets, reflecting how watercress was sold in its Victorian heyday."