New figures released yesterday show the value of UK exports to the EU increased by 8.1 per cent and are now at their highest levels since records began. Yet Britain's "belligerent" NI Protocol override bill will likely derail trade once again, warns the international delivery expert ParcelHero
The Northern Ireland Protocol 'override' bill, which is likely to create a new EU-UK rift, was published yesterday (13 June) – the same day that new government figures revealed a record boom in trade with the EU.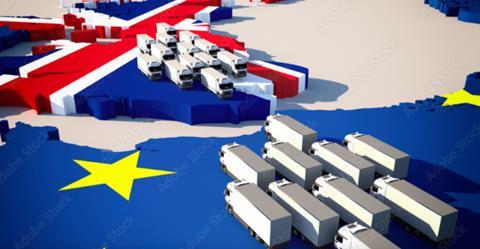 International delivery expert ParcelHero says Britain's EU exports broke all previous records in April as UK manufacturers and retailers saw export sales to the UK's largest trading partner increase by 8.1 per cent.
Office for National Statistics (ONS) UK trade results show exports to the EU reached £16.4 billion in April 2022: their highest level – in current prices – since records began in 1997, said ParcelHero's head of consumer research, David Jinks. Exports to the EU rose by £1.2bn over March and have now climbed for three consecutive months.
In a statement yesterday, Jinks said: "Sadly, today's 'go-it-alone' Northern Ireland Protocol bill could well jeopardise relations with the EU once again, just as trade returns to full health following the chaos of Brexit. The EU says unilaterally scrapping parts of the Brexit trade agreement, which deals with the flow of goods between Great Britain and Northern Ireland, breaks international law.
"What an irony that the UK has returned to its blinkered, belligerent approach to negotiations, just as our EU trade figures returned to health," Jinks continued. "Looking at the new bill, several proposals are likely to incense the EU, including removing the European Court of Justice's role on arbitrating trade disputes. That's a move based on pure ideology. Granting Northern Ireland businesses the same tax breaks as those elsewhere in the UK will also confuse EU tax regulations, as Northern Ireland has to be part of the EU sales tax structure to avoid a trade border within the island of Ireland.
"No one is denying the flaws in the Northern Ireland Protocol. The raft of new checks on food, goods and parcels it would necessitate, if fully enforced to the letter of the law, is pointless. The Government's ideas for a "Green Channel" for goods not entering the Republic are worth discussing. The EU itself agrees the rules need changing and have put forward several proposals. However, this is the wrong time to explode a grenade just as UK-EU trade starts returning to normal. Surely a negotiated settlement with the EU, rather than heavy tactics such as new go-it-alone legislation, is a better solution."