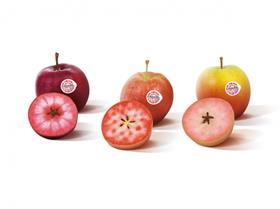 Growers have reported good quality for the UK Kissabel apple crop following the first harvest in September.
The Jaune and Orange varieties were picked in the second half of September, following a summer of low rainfall and colder temperatures. That brought increased flesh colour development and high quality, but smaller fruit size.
Kissabel Orange and Kissabel Jaune are two coloured-flesh apple varieties supplied in Europe by the partners of the Ifored project. Orange has orange/pink skin pigmentation, deep pink pulp and a fresh, tasty flavour, while Jaune features yellow skin, pink flesh and a balanced taste.
In the UK, Jaune and Orange have developed a good colour and taste, growers report. "The Orange harvest started in the second half of September, while the Jaune harvest began in early October,' said Anna Coxe, head of technical and quality at Greenyard 'We are growing alongside the production, which is high quality despite the small temperature differences between day and night of the last few months, a factor that could compromise the sweetness and development of their characteristic colour."
Hannah Martin, commercial director at Worldwide Fruit, said the supplier is seeing 'exceptional' colouring on Jaune. 'Even though the majority of our orchards are only two years old and therefore produce a relatively small quantity, we have land that we have been working for four years and expect a yield of 40 tonnes per hectare," she added.
"We have planned specific marketing activities for Kissabel, such as boxes containing various ingredients in order to create recipes with apples from this range. We also sponsor the National Fruit Show, where we had a stand and handed out samples to familiarise people with Kissabel Jaune and Kissabel Orange, which are flagship varieties for us".