Labour shortages and spiralling costs put UK produce at crisis point, according to industry heads speaking during Festival of Fresh 2022 panel debate
UK vegetable growers are looking at alternative incomes and topfruit growers face losing money this year even if they achieve "the perfect crop" due to spiralling production costs and chronic seasonal labour shortages, according to produce industry leaders speaking at Festival of Fresh last week (8 June).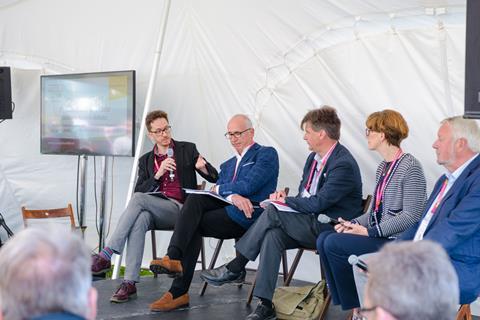 Grower and chair of British Apple and Pears (BAPL) Ali Capper revealed that she is having "serious conversations" about whether to stop fruit production due to mounting debt.
"For UK topfruit the situation isn't great," she told FPJ's Michael Barker during an industry panel debate at the magazine's Festival of Fresh open-air conference outside Berry Gardens HQ near Maidstone in Kent. "Even if growers achieve the perfect crop this season, they will lose money. Why? Because we need a significant price increase. Labour costs are 15 per cent up. Growers are facing a 70 per cent rise in energy costs. It's just staggering. And when we open up conversations with retail about increasing prices, it's very difficult."
Nick Marston, chairman of industry association British Berry Growers (formerly British Summer Fruits) added that, in addition to rising production costs, UK berry growers are "nervous" about seasonal labour shortages this year and the inexperience of those workers that do come through from new source countries.
Martin Emmett, the new chair of NFU horticulture, said he is convinced the whole produce sector will contract as a result. "We are facing a crisis," he said.
"The domestic labour supply is just not there – we've done banner campaigns, radio campaigns, prison programmes; and there is something fundamentally wrong with our immigration policy. We need to be positively welcoming people into our country [to help pick crops], and we need government help on that."
When asked what could be done to improve the plight of the produce sector, Capper said she would like a clear target from government to increase UK production by 20-25 per cent. "If we have a target, we'll get grant funding and the investment that the sector needs," she said. "For example, UK growers could easily supply 70-80 per cent of apples sold domestically, but we currently only supply 40 per cent."
Marston added that addressing the UK's horticulture skills gap is critical. "We don't have enough horticultural training in the UK, so while the berry sector is a serious contributor to the UK economy, there is a skills gap. And labour is critical.
"Berry growers have taken huge strides in production systems to make the sector more productive, such as the move to table-tops and robotics, but 50 per cent of berry costs are direct harvest labour. Robotics are many years off before they can replace labour and berries are double the productivity from five to ten years ago, so it's a real challenge. There is a great deal being done, but it's going to take time [before robotics replace more labour]."
Emmett suggested that one solution might be to get horticulture on to the national curriculum. "If we could get horticulture into the national mindset that would help," he said.
Ward, meanwhile, highlighted low vegetable retail prices and the need to rethink spending on produce. "We've got to ask ourselves about vegetable prices," he said. "In 2017, broccoli went for 45p per pack. Today it's 52p but labour costs are 34 per cent up. Peas in 2017 cost £2 for 2kg pack. Today they cost £1.40. In France, meanwhile, a pack of broccoli costs the equivalent of 75p, while 2kg of peas costs £2. We spend less of our income on food in the UK (7 per cent) compared to the EU (12 per cent), yet we have the highest rent costs and housing.
"What cheers me up, though, is that we have 67m people in the UK and they all need to eat more fruit and veg. We need to make the industry more sustainable and get on with supplying it."
On further reasons to be optimistic about the future, Marston added: "We are world leaders in agri-tech. We have one of the best climates in the world for berry production. If we can sort out the sustainability of our growers, we have a great opportunity for export. We could export half as much again."