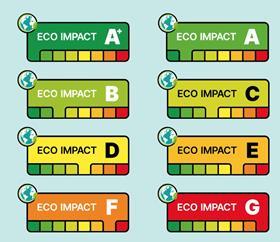 Various foods are being labelled according to their environmental impact under a new traffic light system to be piloted at UK supermarkets.
The trial, which launches this autumn, will see some of Europe's leading food brands display front-of-pack environmental scores.
The scores will be measured by four criteria, namely carbon emissions, water use, water pollution and impact on biodiversity, with assessment at each stage of food production from farming and processing through to packaging and transport.
Nestlé, Tyson Foods and Mash Direct are among the major food brands involved in the pilot. And Sainsbury's, Co-op and Marks & Spencer are all backing the project, which was devised by Foundation Earth.
The environmental non-profit organisationsaid it would produce a "fully automated" system for use across the UK and EU by autumn 2022.
The traffic-light style system, which ranks products from A+ down to G, was inspired by work from Oxford University researchers and developed by life cycle assessors at environmental insights platform Mondra.
The initial pilot will run in parallel to an intensive nine-month development programme, supported by Nestlé, that will combine the Mondra method with a system devised by an EU-funded consortium called EIT Food from Belgium's Leuven University and Spanish research agency AZTI.
Unlike other assessment methods, both of these systems allow two products of the same type to be compared on their individual merits via a complete product life cycle analysis, as opposed to simply using secondary data to estimate the environmental impact of an entire product group.
Experts say this method of individual product assessment using primary data is crucial to encouraging sustainable innovation in the international food supply chain.
Professor Chris Elliott, UK's leading food scientist and chair of the Foundation Earth's scientific advisory committee, said: "The development of a more transparent, sustainable global food supply system is of huge importance to the health of our planet and health of all citizens. We need a system based on the core principles of integrity."
Andy Zynga, chief executive of EIT Food, added:"In supermarkets throughout the European Union, consumers are trying to make more environmentally-friendly choices – and food is at the heart of this.
"Foundation Earth has brought together the major players from the world of science, food production and retailing and will provide consumers with the tools to drive sustainable innovation."
Foundation Earthis the brainchild of Denis Lynn, the Northern Irish food entrepreneur who tragically died in May 2021 following a freak quadbike accident.
Lynn's firm Finnebrogue Artisan, which owns bacon brandNaked, is one of the first food producers adding eco-scores to its products in autumn 2021, in advance of the COP26 climate summit.
The UN's intergovernmental panel on climate change has warned the food industry already contributes up to 37 per cent of global greenhouse gases. Without intervention, these emissions are likely to increase by another 30 per cent by 2050, due to increasing demand from population growth.