Veg Power launches new campaign to encourage Brits to eat vegetables for breakfast after survey highlights missed meal opportunity
A recent You Gov survey commissioned by Veg Power, the not-for-profit to increase vegetable consumption across the UK, has found that 55 per cent of UK adults are struggling to eat their five a day.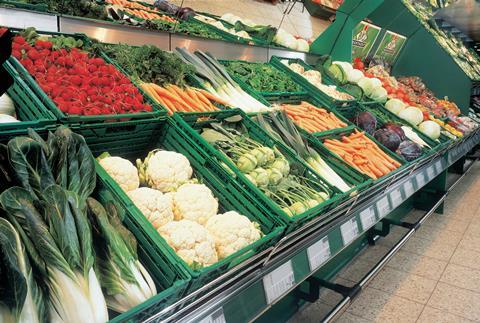 This finding supports the latest UK-wide National Diet and Nutrition Survey (NDNS) in which only 33 per cent of adults were currently achieving the five a day target, Veg Power said.

The Veg Power survey found that breakfast is very often overlooked as a meal opportunity to add veg, with 73 per cent of people surveyed rarely or never eating vegetables for breakfast.
To encourage the British public to reconsider their breakfast choice and help them to meet their five a day target, Veg Power has launched a 'Breakfast in Colour' campaign, featuring a promotional video on social media together with ideas and inspiration to guide people in the creation of easy-to-prepare and colour breakfast dishes.
The campaign will be supported on social media by a range of experts and influencers, including Hugh Fearnley-Whittingstall; family food expert and author, Emily Leary (@amummytoo); Triplets in My Kitchen (@triplets_in_my_kitchen); Plant-based and Sustainable Chef, Bettina Campolucci Bordi (@bettinas_kitchen) and Registered Nutritionists, Zoe Griffiths (@zg_nutrition) and Charlotte Radcliffe (@the_nutrition_consultant).
Dan Parker, chief executive Veg Power, commented, "Breakfast is a meal occasion for many in which veg simply just don't feature. By sharing simple ideas and options to add veg to this meal, we hope the British public will reconsider their breakfast choices and aim for a more colourful and nutritious meal with veg added. Let's get the message out there that five a day can start at breakfast."
Rebecca Stevens, registered nutritionist, Veg Power said: "Breakfast is an important meal providing an opportunity to fuel and nourish our bodies. However, we can be creatures of habit and time poor in the mornings, resulting in breakfasts being a fairly repetitive affair. By adding some veg, you can cover off some of your five-a-day and nutritional needs particularly fibre, vitamins and minerals."
Veg Power addeed that it has a number of exciting initiatives for the rest of the year, all designed to increase the UK's veg intake, such as #simplesaladbowls launching later this summer.
Veg Power, a not-for-profit Community Interest Company, was founded by the Food Foundation, Hugh-Fearnley-Whittingstall, Sir John Hegarty and Baroness Boycott to turn around vegetable consumption in the UK. It runs a number of creative initiatives to engage, inspire and motivate people to eat more veg and create life-long good food habits. To change children's perceptions of veg, Veg Power runs the award-winning Eat Them to Defeat Them campaign.
Veg Power is funded by Abbey View Produce, Abel & Cole, Barfoots, Bayer Crop Science, Coop Foods, EVG Europe, Fresca, Greenyard, Gs, Hazera Seeds UK, Monaghan Mushrooms, Ocado, Produce World, Riviera Produce, SAKATA, Sainsbury's, Staples, Tesco, Total Produce, Tozer Seeds, Waitrose, Wealmoor, Westfalia Fruit Group and Waitrose.