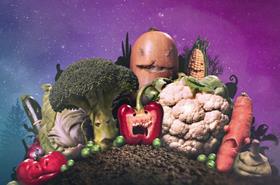 Veg Power has announced that its ground-breaking 'Eat Them to Defeat Them' campaign has been postponed until the summer of 2021 due to continuing school closures in the UK.
The campaign's educational efforts, which reach 500,000 primary school pupils, have been rescheduled to begin on 7 June in England and Wales, and two weeks earlier in Scotland and Northern Ireland where term finishes earlier.
This year's Eat Them to Defeat Them TV adverts will now launch on 29 May on ITV, Channel 4 and Sky, with the postponed campaign now coinciding with the start of the UK season for a number of vegetables such as carrots and broccoli.
The style and narrative of the Veg Power initiative is unprecedented – a far cry from previous attempts to boost fruit and veg consumption among children.
As Veg Power chair Baroness Rosie Boycott puts it: "For many years we have been telling kids that eating veg was good for their health, as cartoon carrots danced under rainbows to repetitive jingles."

By contrast, the Eat Them to Defeat Them narrative sees "the rise of evil vegetables plotting to take over the world, and casts kids as heroes marching into battle to save humanity from the veg".
The initiative ran its second campaign in spring 2020. Created by Veg Power and ITV, with the support of Channel 4, Sky and 10 retail and food brands, the TV campaign reached over 46 million people.Its schools programme reached 425,000 primary school age kids, with 76 per cent saying it made veg more fun.