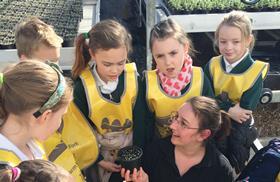 Vitacress has hosted its first Tesco Farm to Fork trail event.
The UK's leading producer of fresh herbs for the UK retail market welcomed local schoolchildren to one of its production sites as part of its commitment to the Tesco Eat Happy project, a long-term commitment to help children have a healthier and happier relationship with food.
A group of 32 pupils aged between seven and eight visited Vitacress' herb nursery in Runcton, West Sussex, on 27 February. They learnt about how fresh herbs are grown and their uses, spent time potting their own parsley seeds and were provided with a selection of worksheets to do taste tests, food pairing and cooking.

Vitacress has developed a selection of curriculum-based worksheets for schoolchildren, in conjunction with the British Nutrition Foundation. The company plans to roll out further school visits across its UK sites.

Tony Reid, head of marketing at Vitacress, said: "It's absolutely vital to engage the next generation with where their food comes from, in order to help children to develop healthy eating habits. Fresh herbs are a vital part of cooking - they are a healthy and easy way to add flavour to food.
'We are delighted to be involved in the Tesco Eat Happy Project and to have welcomed our first school to one of our sites today. We look forward to continuing our work with Tesco to give even more children the opportunity to connect with their food."

Josh Hardie, corporate responsibility director at Tesco, added: "We believe that if children understand more about food and where it comes from, they can make better decisions about what they put on their plates when they grow up. The children's visit to Vitacress' herb nursery is an important part of that ambition."