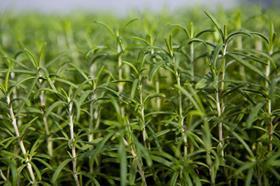 Vitacress is to sponsor The Royal Horticultural Society's (RHS) search for the best young herb photographers.

The competition is aimed at schools taking part in the RHS Campaign for School Gardening, a UK-wide initiative that aims to inspire and support schools to provide children with gardening opportunities to enhance their skills and boost their development.
Photographers are invited to capture a 'living' herb growing in the wild, garden, in a container or in a setting of their choice. The herbs may be growing in the UK, abroad or across any season.
There are two age groups for the competition – 11 to 17-year-olds, and an under-11s category.
Entrants will compete for the title of RHS Young Herb Photographer of the Year, and the prize of an iPad Air, worth approximately £300, will be awarded to the winner from each age category.
The winning photographer's school in both age groups will also receive £500 of horticultural materials for their gardening clubs. In addition, the runner up in each age category will win an iPad Mini and £250 of horticultural materials for their school.
The judging panel for the RHS Young Herb Photographer of the Year 2015 will include representatives from Vitacress, the UK's largest grower and supplier of fresh herbs for the UK retail market, Jekka McVicar and Lady Bacon, chair of the RHS Herb Group, Alana Tapsell, schools' communications officer for the RHS Campaign for School Gardening, and Jason Ingram, who was voted photographer of the year 2014 by the Garden Media Guild.

Chris Moncrieff, production director for the Vitacress herbs division, said: "We're obviously very passionate about herbs so to be part of this competition is exciting. We're really looking forward to seeing the entries. Herbs offer such vibrant colours and shapes, we hope they will offer some fresh and creative opportunities for the young photographers."

The closing date for entries is 25 September 2015. Entry is via the campaign's website, and budding photographers will be able to submit their herb pictures viathis link.