Dates removed from 500 products, including extensive range of packaged fruit and veg, as shoppers are encouraged to use own judgement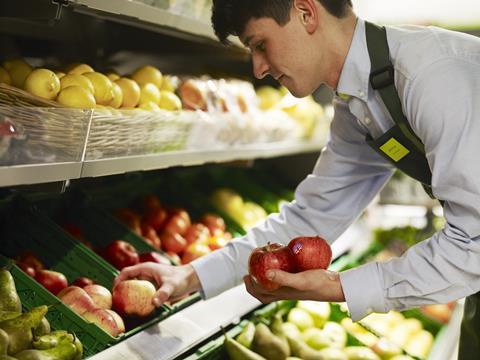 Waitrose has announced it will remove 'best before' dates on almost 500 fresh food products in a move to reduce food waste.
From September the supermarket will do away with the dates on packaged fruit and vegetables, leaving consumers to instead use their own judgement about when the fresh produce has gone off.
Among the products from which dates will be removed are lettuce, cucumbers and peppers (see full list below).
Wrap estimates that removing 'best before' dates on fresh fruit and veg could save the equivalent of 7m baskets of food from being binned, with potatoes emerging as the most wasted food in the UK, according to the food waste organisation.
'Best before' dates are designed to indicate the quality of food rather than its safety, whereas 'use by' dates are given for safety and could sometimes lead to food poisoning if ignored by the consumer.
Waitrose is the latest supermarket to make the move as supermarkets look for new ways to reduce food waste and reduce costs for shoppers and stores.
In July Marks & Spencer also got rid of 'best before' dates on over 300 fruit and veg products after a successful trial.
Meanwhile, Tesco started the trend among the major retilers when it did away with 'best before' dates on more than 100 fresh food products in 2018.
Marija Rompani, director of sustainability and ethics at the John Lewis Partnership, which owns Waitrose, said: "UK households throw away 4.5m tonnes of edible food every year, meaning that all the energy and resources used in food production is wasted.
"By removing 'best before' dates from our products, we want our customers to use their own judgment to decide whether a product is good to eat or not, which in turn will increase its chances of being eaten and not becoming waste.
"By using up existing fresh food in our homes, we can also save on our weekly household food shop, which is becoming an increasingly pressing concern for many."
Commenting on the move, editor-in-chief of Finance.co.uk, Laura Rettie said: "Waitrose removing best before dates is ultimately a positive move by the grocer for shoppers. The difference between a 'best before' and a 'use by' date can easily be mistaken, and good food often goes to waste, costing consumers money to replace perfectly good food.
"I empathise with shoppers who may fear this move will mean they might end up with food that won't keep for as long without the guidance of a 'best before' date. I urge supermarkets not to take advantage of shoppers by selling fresh goods close to or past their 'best before' dates to prove this move is a positive one".
'Best before' date have been removed from the following produce at Waitrose:
Lettuce
Cucumber
Peppers
Potted herbs
Salad onions
Tomatoes
Mushrooms
Celery
Potatoes
Root vegetables
Brassicas
Leeks
Melons
Pineapples
Apples
Pears
Citrus (oranges, lemons and limes)
Plums
Grapes
Exotic fruits
Indoor and outdoor plants