UEA's Prof Kevin Hiscock suggests changes in land use and cultivation practices to manage water better in future, while NFU calls for more government support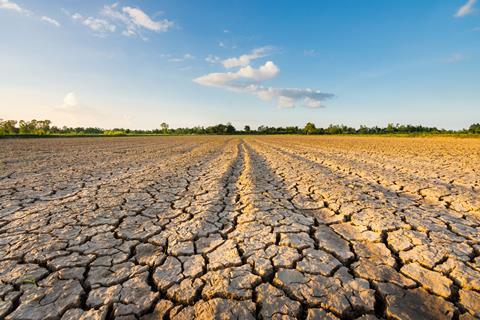 England and Wales have seen the driest start to a year since 1976 and it has raised concerns that the UK could be heading for a drought.
Now, the government, water companies and individuals all have a part to play in reducing water consumption in the short and long term, according to water expert Prof Kevin Hiscock at the University of East Anglia (UEA).
Commenting on what agriculture can do to manage water resources better in future, he said: "Changes in land use as part of a nature-based solutions approach, can help with both controlling flooding and enhancing water resources.
"Planting woodland, restoring wetlands and changing cultivation practices such as planting winter cover crops and reduced tillage methods can all enhance water retention in the landscape and so reduce flood runoff and enhance infiltration to aquifers.
"In the longer term, with climate change and summers expected to become warmer for longer, then we will need to manage irrigation water demand to meet the conflicting demands of water supply, agriculture and the environment that arise in drought years."
The NFU, meanwhile, has called on government to be as flexible as possible in applying water abstraction rules to avoid wasting water that might otherwise run out to sea. For example, farmers should be permitted to abstract water during 'flash' high river flow events, the NFU said.
The union also wants the government to help equip farmers with tools to manage extreme weather events, such as rainwater harvesting, separating potable and non-potable water use, locating and repairing leaking pipes, and cultivation techniques that lock in soil moisture.
The NFU's policy asks on water are to:
Develop long term, multi-sector collaborative plans for managing water scarcity and flooding events that link together the management of 'too much' and 'not enough' water.
Deliver a 'fair share' of water to farmers by recognising the food and farming sector as an essential user of water.
Ensure that the Government Food Strategy, in the context of international trade talks, acknowledges drought risk as a global issue. Since food imports could become increasingly vulnerable, the NFU said the government must recognise the comparative advantage of British agriculture in delivering national food security.
Take an agile approach to agricultural transition so that farm businesses avoid a cliff edge in their finances while trying to recover from extreme weather.
Create policy measures that replace previous support systems to help manage the impacts of weather and market-related volatility, including droughts and water scarcity.
Introduce incentives through the tax system to encourage investment in infrastructure to mitigate against the impacts of floods and droughts such as farm reservoirs and equipment to improve water efficiency measures.