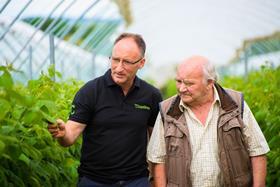 Berry growers WB Chambers has teamed up with Sodexo to back local food sourcing for British Food Fortnight.
Sodexo provides catering services at hospitals, schools, prisons and offices as well as sporting venues across the UK, and the company has enlisted Kent berry specialists WB Chambers to supply them with soft fruits as British Food Fortnight kicks off.
Campaign group Love British Food leads the national promotion of British food and encourages retailers and caterers to make British food their preferred option, culminating with British Food Fortnight, between 21 September to 5 October this year.
James Miller, commercial director at WB Chambers, said: "The UK has the highest standards in fruit production in terms of quality, flavour, variety of breeding and the minimal use of pesticides.
"It's exceptionally important to producers like ourselves that companies such as Sodexo work with us to promote the wonderful, high quality British fresh berries that we grow and supply.
"We are proud to supply Sodexo with our raspberries, blackberries and blueberries so that their customers can enjoy home-grown fruits, and in doing so, really support the British economy."
David Mulcahy, food innovation director at Sodexo, said: 'We have supported Love British Food for a number of years now, and we are delighted to continue this partnership and really shine the spotlight on local food during British Food Fortnight.
'We know it's important to our clients and customers that wherever possible we use locally sourced produce in the menus we serve, and we are proud that a large proportion of our recipes do use ingredients sourced in the UK.
'That means that across our sites, from hospitals to offices, schools to stadia, our customers will be supporting British food when they eat our meals."