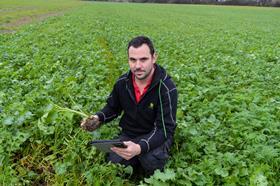 An online soil guide has been launched with the lofty aim of becoming the world's most comprehensive resource to help farmers improve soil health and increase the efficiency and profitability of their businesses.
The Good Soil Guide – a collaboration between Yorkshire Water, Yorkshire supply chain consultancy Future Food Solutions and soil scientist Neil Fuller – is a free-to-access, online encyclopaedia, specifically designed for use in the field.
The huge database contains extensive information, empirical data and advice on how to improve soil health, increase soil organic matter, diagnose and treat problems with soil and crops, and help farmers to reduce carbon emissions.
It is a live guide, enabling farmers, agronomists, and other industry professionals from around the world to share their knowledge by adding to the already extensive resource.
According to the founders, the 'holistic' guide looks at all aspects of soil health, and has been specifically designed for use in the field. Fuller said: "The Good Soil Guide is full of soil data derived from cover crop trials, different tillage methods, practical experience and much more.
"By using it, farmers can compare soil samples from their fields with pictures in the guide and diagnose issues such as a lack of nutrients or depleted soil organic matter. They can then use the contents of the guide to put that right.
"It is not written in an academic or scientific style. The information is presented simply and clearly and in a mobile-friendly format, so farmers and agronomists can access it whenever and wherever they need it."
Fuller added that the guide also includes advice on carbon management, including sequestering carbon to reduce atmospheric CO2, increase soil organic matter and help farmers move towards net zero.
Future Food Solutions co-ordinated the creation of the Good Soil Guide, which is free to use and has no links to agribusiness, meaning all the information and advice contained within it is unbiased, according to the founders.
Growers can access the Good Soil Guide by going to www.soilguide.co.uk and creating a free account.