Australia group signs acquisition and joint venture deal with De Maio family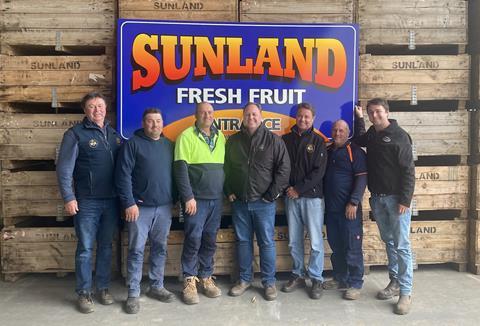 N&A Group has continued its strategy of "collaborative consolidation" through the acquisition of the Sunland Fresh Fruit business.
The deal is tied to the establishment of a joint venture between the Australian fresh produce group and the De Maio family.
A premium producer of stonefruit, apples, pears and persimmons, Sunland Fresh Fruit is located on the Victoria-New South Wales border in the neighbouring towns of Cobram and Barooga.
Assets included under the deal include 750ha of planted orchards, a secure water portfolio, cool rooms and packhouses.
The transaction and joint venture will see the Sunland assets managed by the De Maio family in partnership with N&A Group. This also includes a greenfield site the De Maio family has been developing since 2021.
"We are confident that this transaction and partnership will deliver on the group's longer-term strategy based around the three pillars of sustainability, innovation and supply chain efficiency," says N&A Group's Ian Cathels.
"The orcharding division will benefit from operational efficiencies and further geographical diversification. Meanwhile, our marketing division will deliver a more streamlined supply chain for our entire growing base.
"This acquisition allows N&A Group to strengthen and expand domestic and export sales channels through the complete implementation of our marketing programme, targeting sustainable supply formats."
The deal also gives N&A Group access to the premium Regal'In flat and round stonefruit varieties, which are in their first year of commercial production at Sunland's orchards.
"Ian and I first saw these varieties in Europe ten years ago and immediately recognised their superior growing and eating qualities," says Rob Cathels of N&A Group.
"The acquisition of Sunland Fresh Fruit, being a cornerstone grower in the Regal'In programme, now gives the N&A Group input into the development of these varieties at every stage of the supply chain as a grower, packer and marketer on the East Coast."
N&A Group and the De Maio family have a long-standing relationship, with the former marketing Sunland Fresh Fruit products for almost 20 years.
"Bringing the Sunland Fresh Fruit orchards back under joint management is an exciting move for us that complements our greenfield developments," said Peter De Maio.
"We believe our combined 150 years of family growing experience in the region, coupled with the strength of N&A's marketing platform, will ensure the ongoing success of the further diversified Sunland Fresh Fruit business."
The partnership with the De Maio family complements N&A Group's joint venture with Shepparton-based Plunkett Orchards, announced in 2019.
"This joint venture is another exciting step in our strategy of collaborative consolidation," said Rob Cathels.
"The group now has a vertically integrated supply base across the premium growing districts of Batlow, Cobram, Barooga and Shepparton, producing pome fruit, stonefruit, persimmons, citrus and berries to our customers."