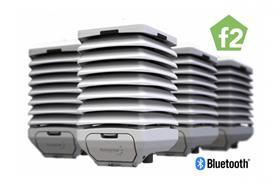 Autogrow haslaunched the second generation of its FoliumSmartSensor Network (F2) ahead of schedule tomeet customer demandfor greater access to data in the cloud.
Jonathan Morgan, chief technology officer of Autogrow, said excellent customer feedback and the sensor's design made the delivering next generation easier.
"Since the initial launch of Folium in February we have had fantastic feedback from customers requesting further features. Because of our focus on usability and our approach to design; we have been able to deliver F2 significantly ahead of our timeline and incorporate the most requested items which is incredibly exciting," said Morgan.
"F2 gives growers that next level microclimate data. Traditionally, microclimates described the farm, then it was the greenhouse, but now with F2 it is down to the level of the plant itself. Each sensor can gather a monumental amount of data making it the most comprehensive sensor network on the market."
The Autogrow team focused on the most requested features for F2 including the addition of plant temperature readings, substrate moisture readings and actual vapor pressure deficit.
"With the release of ourFolium public API(application programming interface)in August we were able to integrateother sensor technologylike plant temperature sensors and substrate moisture sensorsto the platform," explained Morgan.
By adding these features Morgan said growers didn'tneed to buy seven or eight different sensors any more given everything that is available in F2.
"All of the readings and microclimate visualisation are presented in the cloud on one platform," said Morgan.
"When you're looking for precision in agriculture you need to understand the levers you can pull to further increase your yield and F2 is what's going to get you there."