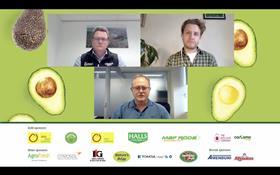 The final session of the Asia track of Global Avocado Congress focused on the significant increase in production occurring across the Asia-Pacific region.
The growing appetite for avocados in Asia has been well documented, with companies and suppliers in the region spurred into action.
Avocados are grown year-round in Australia, with John Tyas, chief executive of peak industry body Avocados Australia, telling attendees the nation's production has increased considerably over the last 12 months.
"This year we're seeing a massive increase in production with a lot of young plantings coming online," explained Tyas. "We're expecting about 110,000 tonnes over the next 12 months.
"It's going to be a massive crop around the country. Traditionally we've exported less than 5 per cent of our production due to a strong domestic market, but this year is going to be very different."
Tyas said the industry would look to grow emerging markets as new plantations across Australia reach maturity.
"There's around 15,000-16,000ha planted in Australia right now, and based on that we expect to get around 150,000 tonnes of avocados in the future.
"Singapore, Malaysia and Hong Kong have been our traditional export markets, but we've got a focus on new markets as we move forward and production increases."
It's a similar story for Australia's trans-Tasman neighbour, New Zealand. The country's avocado export programme is heavily weighted toward Australia, and the increase in production there has growers in New Zealand looking for alternatives markets too – namely Asia.
"We were really proud of the record returns for the 2021 season," NZ Avocado chief executive Jen Scoular told GAC attendees. "Exports were valued at NZ$230m, and we exported 28,000 tonnes in that period.
"We achieved our growth strategy and one of the results from that is that we have a lot of new investment into avocado orchards which supports our longer term growth strategies for the industry."
Differentiation a key aspect to marketing
Both Australia and New Zealand are positioned as suppliers of premium avocados, a tag Costa Group's divisional manager for avocados, Cormac te Kloot, said will have to be backed up with consistency.
"Australian exporters have had the luxury of a strong domestic market for the last five years, so export has always been a little lower down the ranks of what it could've been," te Kloot began. "But this year has really sparked the need to improve the consistency of exports.
"A lot of growers grow for the domestic market, and we need to focus on "how do we grow for the export market?" Once we have the consistency of supply, we will need to over-deliver on the quality of the product."
Te Kloot stressed the importance of getting the messaging correct when exploring new markets, too. "We don't want to talk about price when looking at new markets, we want to talk about value," he said.
"We want consumers to think, yes this is a little more expensive, but it's good value. It's going to taste good and eat well."
Avanza marketing manager, Steve Trickett, echoed te Kloot's sentiments when discussing how New Zealand producers should approach new export markets.
"In the context of New Zealand avocados, we are less than 2 per cent of global avocado production, but we are quite unique in a number of ways," said Trickett. "The differentiation and New Zealand story are very important.
"Unlike the avocado heavyweights in South America [our climate] allows for fruit to be on the tree for up to 18 months, which results in larger fruit… with a different flavour profile.
"Consumers in Asia are discerning. Taste, texture and mouthfeel are important to them, and that's all part of the story about New Zealand we want to share with consumers in Asia," he added.
Philippines emerges as production hub
In Bayawan City, in the Central Visayas region of The Philippines, alternative asset company specialising in agriculture, Agri Developments, has completed the plantings of its Hass avocados expansion.
Chief executive, Leo van Egeraat, addressed attendees of Global Avocado Congress, telling them Agri Developments found the Philippines to be an idea production base that met its requirements.
"The Philippines is an ideal strategic location for exports, it has an abundance of fertile land and provides strong, consistent rainfall," van Egeraat said. "We believe it can supply the entire regions demands moving forward.
While Agri Developments will be focusing on the domestic market in the Philippines, it has goals to export fruit to Japan, China and Korea once production reaches maturity.
Research highlights propogation approaches
Closing out the Asia track was a presentation from Professor Neena Mitter, director of the University of Queensland's Centre for Horticulture Science.
Professor Mitter's research focuses on producing avocado rootstocks through tissue culture, instead of seedling or clonal propagation.
"Tissue culture is routinely used for crops such as berries, bananas and a large number of ornamental plants. But when we come to tree crops, such as avocado, it's a very hard nut to crack," she explained.
"We wanted to produce high-quality plants which are pest and disease free, and most importantly we wanted to achieve a high multiplication rate."
Professor Mitter's research and results have previously been covered by Fruitnet.