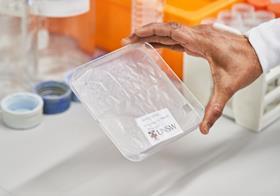 Two researchers from the University of New South Wales (UNSW) Sydney have discovered how to turn banana plantation waste into a packaging material that is not only biodegradable, but also recyclable.
Jayashree Arcot and Martina Stenzel were looking for ways to create value from agricultural waste and saw an opportunity in the banana industry with only 12 per cent of the banana tree being used.
The pair turned the banana plant's pseudostems – the layered, fleshy trunk of the plant – into a powder to create a material called nano-cellulose. This material has a range of uses and when processed it has a consistency similar to baking paper.
Arcot said depending on the intended thickness, the material could be used in a number of different formats in food packaging.
"There are some options at this point, we could make a shopping bag, for example," explained Arcot.
"Or depending on how we pour the material and how thick we make it, we could make the trays that you see for meat and fruit. Except of course, instead of being foam, it is a material that is completely non-toxic, biodegradable and recyclable."
The researchers said tests also confirmed the material breaks down organically, is recyclable and poses no contamination risks.
For the banana pseudostem to be a realistic alternative to plastic bags and food packaging, Arcot said it would make sense for the banana industry to start to process the pseudostems into powder, which it could then sell to packaging suppliers.
"If the banana industry can come on board, and say to its farmers or growers that there's a lot of value in using those pseudostems to make into a powder which you could then sell, that's a much better option for them as well as for us," Arcot said.
At the other end of the supply chain, Stenzel said if packaging manufacturers updated their machines to be able to fabricate the nano-cellulose film into bags and other food packaging materials, then banana pseudostems stand a real chance of making food packaging much more sustainable.
"What we're really wanting at this stage is an industry partner who can look into how this could be upscaled and how cheap we can make it," Stenzel said.