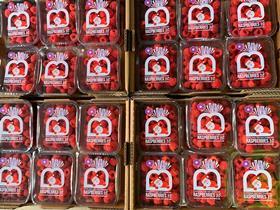 Christmas has brought a new face BerryWorld Australia's packaging giving a seasonal update to the company's new brand.
To mark the Christmas period, BerryWorld Australia launched a novelty Christmas design on its 125g heat-sealed raspberry packs.
The packs feature a stylised Santa popping out of the BerryWorld signature 'B' window and are available in Queensland until Christmas day (25 December).
It's the first novelty design for the brand which launched in 2017 and rebranded earlier this year with a new 'burst' theme branding across all of its strawberry and raspberry punnets.