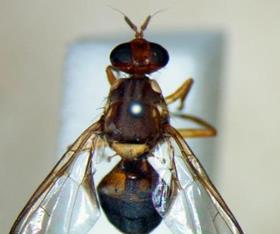 Fruit movement within the Auckland suburb of Devonport is temporarily restricted following thedetection of one male Queensland fruit fly.
No whole fruit or vegetables except leafy and root vegetables or cooked, processed, preserved, dried, frozen and canned fruit, can be moved outside the Zone A control zone.
The area covers just a few streets in the Auckland suburb, and is a precautionary measure to prevent the spread of fruit flies out of the area in the instance of further detection.
A broader control zone covering the suburb of Devonport and neighbouring Narrow Neck dictates the restricted movement of home-grown fruit and vegetables outside the zone.
Though no further detections have been made, the matter is being treated with caution in order to protect New Zealand's fruit trade industry.
Stuff reported the country's minister of biosecurity put the cost of a single fruit fly at "about NZ$1m" and says it could be weeks before the process is put to rest.
New Zealand labour party MP, Damien O'Connor said it is important to take as many precautions as possible due to the effects a breeding fruit fly population could have on New Zealand's export industry.