Pilot will remove plastic single-use plastic produce bags from 19 stores as part of sustainability commitments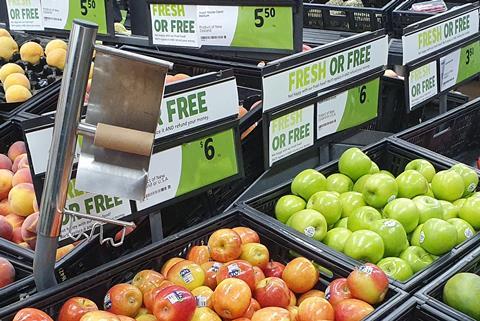 New Zealand supermarket chain Countdown has announced it will phase out single-use plastic produce bags from 19 of its stores as part of a pilot beginning 25 July.
The 19 stores will join the Metro Herne Bay store which opened without single-use plastic produce bags in June.
Countdown's commercial director of fresh, Pieter De Wet, said the pilot was an exciting shift in focus, after the last two years where keeping the Countdown team and customers safe was understandably the priority.
"As we get used to a new normal, we want to bring some renewed focus to delivering on the ambitious sustainability commitments we have set out to achieve by 2025, including our action on plastic. Setting a goal to be out of single-use plastic produce bags ahead of any government ban feels like a positive start," said De Wet.
"We get a lot of feedback from our customers about single-use plastic produce bags being unnecessary and, in fact, a growing number of our customers are already forgoing these in our stores. For those customers this change will be easy to make, but we want to make sure we bring all our customers on the journey with us - our pilot will help us do that."
Pieter De Wet said the pilot would help the retailer understand the best approach to completely removing the bags ahead of the upcoming government ban.
"We'll be seeking feedback from customers to see how they feel about the change and to understand what we need to do to help them make the switch to reusable options for the long-term. This feedback will be invaluable as we roll it out to more stores in the coming months," said Pieter De Wet.
"Currently, our customers use around 50m single-use plastic produce bags each year. With a government phase-out expected by mid-2023, we want to help our customers adapt to being single-use plastic produce bag free ahead of time. We're incredibly excited to be starting this pilot and hope our customers feel proud to be leading this change."