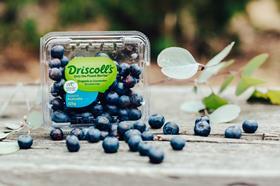 Driscoll's has reaffirmed it's commitment to organic farming by offering 'organic in-conversion' blueberries through to mid-February.
'While most Australian consumers are aware of 'certified organic', organic 'in conversion' is a lesser known term,' said Driscoll's general manager, Jon Gleeson.
Driscoll's organic in-conversion blueberries allow consumers to purchase a product which has been grown by farmers who are in the process of converting their operation to organic, but haven't yet been officially certified (usually from second year in a three-year process).
The blueberries are free from pesticides or prohibited substances, additive free and non-GMO.
'These 'organic in-conversion' blueberries are farmed with care at the main farm in Tumbarumba in the Snowy Mountains, NSW by farmer Nico Mulder,' added Gleeson.
'We think it's important people are aware of the term 'organic in-conversion' so they can make healthier, more sustainable choices and support farmers like Nico who are dedicated to this transition for the betterment of the planet.