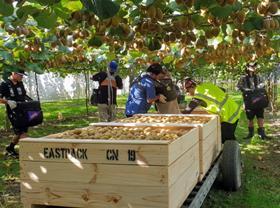 EastPack has announced the launch of Pinpoint Laboratory Services, the company's new, fully independent laboratory, which will provide sample collection and testing of kiwifruit.
According to a report from the New Zealand Herald, the leading post-harvest operator's lab will be located in Te Puke and will create 80 jobs.
Hamish Simson, chief executive of EastPack, said Pinpoint has been confirmed by Zespri as one of the testing providers for the 2021, 2022 and 2023 seasons.
'Following a robust and successful tender process to collect and test a portion of the industry volume we are building a new lab facility at our Quarry Rd site in Te Puke, as the forecasted volume will require a significant increase in current lab size and capacity,' Simson said.
'The Pinpoint team will be collecting and testing samples from allocated orchards across the Bay of Plenty and we look forward to offering another great service to our region's growers.'
The new lab facility is expected to be operational by early next year in time for the 2021 kiwifruit season in New Zealand.
Sasha Thomson,operations manager of Pinpoint, said the sampling and maturity clearance testing service played an important role in helping kiwifruit growersmake informed decisions about the best time to harvest their crop and Pinpoint will be placed to facilitate this from 2021.