Fresh produce from Mackays Marketing, Perfection Fresh and Pinata Farms fuels mighty fundraising effort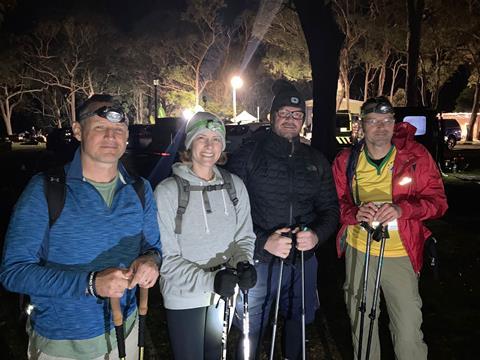 Fresh produce from some of Australia's best-known brands has powered Escavox towards successfully completing the Oxfam Trailwalker 2023 and surpassing the company's fundraising goal.
The management group of the supply chain data company crossed the finish line of the 100km trek at 1pm on Saturday, 29.5 hours after joining hundreds of walkers on the Sydney leg of the challenge to raise A$1.5m nationally to alleviate poverty.
Setting an initial target of A$2,000, Escavox raised A$5,675, delighting the team which had spent four months training weekly to prepare for the gruelling event.
"It was very tough from the outset, starting with a 1km stretch at an almost 60-degree angle uphill and from there it just got more brutal," said Escavox head of sales, Christian Patterson,
"There were some parts that got a bit flatter which gave you a breather, but most of it was up and down hills, clambering up rock faces, climbing, at times even crawling, and crossing gorges using ropes. It really pushed us to our limits and I'm not ashamed to admit that at times there were some tears."
While physically training for the event months in advance, the Escavox team also ensured they had prepared their fuel for the journey, receiving support from customers Mackays Marketing, Perfection Fresh and Pinata Farms to maintain their energy during the ordeal.
"Before each major leg, we had bananas from Mackays Marketing, tomatoes and cucumbers from Perfection Fresh and berries from Pinata Farms to give us a lift," Patterson said.
"Every day our businesses work together to ensure this kind of quality and health benefit is delivered to the Australian consumer, and it's been great that we've also been able to team-up on this initiative to help Oxfam in its work with communities facing economic hardship and social disadvantage.
"On behalf of team Escavox, I'd also like to thank our media partner Produce Plus for supporting this initiative with promotion to the fresh produce industry."
Despite some soreness and tiredness when the team returned to work on Monday, Patterson is confident of a repeat performance in 2024.
"I can't guarantee it will be the same team again, but Escavox is keen to participate next year to help Oxfam continue their important work, especially in our nearby Pacific nations who contribute so vitally to Australian horticulture," he said.