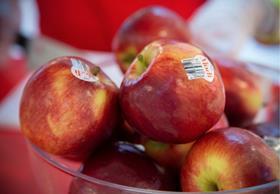 Four lucky Melbournians will have a chance to win a Series 6 Apple Watch, thanks to a new competition Freshmax is running with Melbourne radio station, 3AW.
Louise Wood, category manager for Freshmax Direct, said Freshmax was thrilled to partner with 3AW.
"This collaboration is a great opportunity for Modi Apples to reach its target demographic," said Wood. "Despite the challenges of the pandemic last year, we delivered a strong sales performance with the Modi programme and are looking to build on that in 2021.
"We are fortunate to have excellent support from our retail partner Coles and are pleased to see that demand for Modi continues to grow nationally," added Wood.
"Competitions and activations like these are an important part of our marketing and sales strategy, providing significant commercial benefits. Through competitions such as this one, we are able to raise awareness about our product whilst giving back to our customers in a fun and engaging way," she added.
To have a chance to win one of the four Series 6 Apple Watches, consumers will need to call Tom Elliott during the 3AW Drive programme (Melbourne only) between 3 pm-6 pm weekdays from 21-26 April.
The best caller of the day will be chosen, with just one lucky winner each day (excluding weekends).
Sona Padman, national marketing manager, said that consumer engagement and creativity has always been integral to Modi Apple marketing campaigns.
"The brand name Modi is inspired by the famous Italian artist, Amedeo Modigliani, known for his daring strokes and bold use of colour – just like the striking red colour of Modi Apples," said Padman.
"So, creativity is in our DNA. Marketing activations and competitions like these give our consumers a chance to show their creative flair.
"And collaborating with a well-known radio station such as 3AW, helps us to both engage with our consumers and also to boost our market share here in Melbourne," she added.
"Modi Apple has a unique brand personality and, as such, our campaigns aim to connect with consumers in an imaginative and creative way.
"We love coming up with innovative, out-of-the-box marketing ideas. I am personally really looking forward to hearing the callers to the 3AW Drive programme for this competition."
The competition runs from 21 - 26 April, 2021.