Almond Centre of Excellence receives new investment to help develop production systems for Australian growing conditions
Australian state-of-the-art research facility, the Almond Centre of Excellence, has received an A$6.2m injection to continue supporting growers to adopt global best practices suited to their local conditions.

Delivered through Hort Innovation and led by the Almond Board of Australia, the Centre in Loxton South Australia was originally commissioned in 2016 and has helped fast-track industry-driven research outcomes.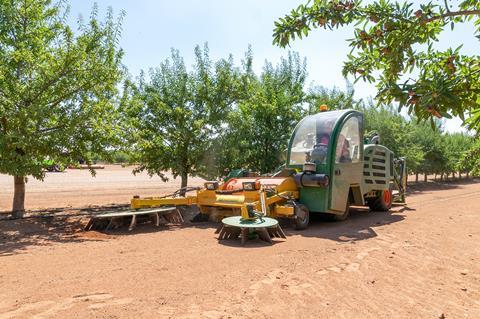 Hort Innovation chair Julie Bird said the significant investment into the Centre demonstrates almond growers' commitment to their future.
"The almond industry has grown production from 7,000 tonnes in 2002 to more than 140,000 in the 2023 season. Production is forecast to exceed 200,000 tonnes within the next five years and annual sales to exceed A$1bn," she said.
"The Almond Centre of Excellence is a shining example of how Hort Innovation works proactively with industry to prepare for the future. The Centre equips almond growers to embrace best management practices, not only in production but in sustainable farming methods."
Almond Board of Australia chief executive officer Tim Jackson said the Centre reflected the almond industry's growing appetite for world-class research focused on Australian growing conditions.
"The Australian almond industry is an industry that cooperates and shares knowledge to move forward collaboratively," Jackson said.
"Our industry is based on technology imported from California where 78 per cent of the world's almonds are produced. However, as our industry has progressed from having a research levy contribution of A$70,000 in 2002/03 to well over A$2m in 2022/23 the capacity to undertake research has increased dramatically.
"The focus of our research is around developing production systems better suited to Australian soils, weather conditions, improved varietals and rootstocks, and our pests and diseases rather than perpetuating the Californian production model developed for their conditions."
The Almond Centre of Excellence is home to more than A$15m in almond industry investments being delivered through Hort Innovation. Among the areas of focus for the Centre are orchard design, water management, plant nutrition, production cost management through input efficiency and pest and disease control. Soil health, new varieties, pollination and bee health, bird management, extreme weather events, product quality, food safety issues and biosecurity are also priorities.