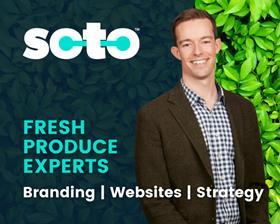 Businesses of all shapes and sizes in fresh produce need branding. Whether it is a logo on a box, reimagining of your website into a foreign language, or a staged multimedia launch campaign for a new product into multiple regions around the world. The scope for branding and marketing in fresh produce is broad, but the amount you spend doesn't have to be.
For many brand and digital agencies, once the brief is received all dialogue stops until it's time to present. No discussion, no workshop, no involvement. The same is not true of Soto Group. Soto takes you on a journey, and then once the brand is built or the website launched, Soto sticks around to help.
"After many years of feeling under-engaged when working with creative partners, I wanted to do it differently," said SotoGroup cofounder Matthew Crouch. "Our primary focus is that every step of the process is explained to the client so they can appreciate, embrace and contribute to our creative process in as many ways as possible. We want them engaged and involved for as long as we can help."
Soto Group is fast becoming the most educative branding and website partner in industry, offering coaching and operational marketing templates for clients to self-serve into the future.
"We offer scalable brand and website support programmes,"Crouch said. "These include staff coaching, brand roll out, ongoing strategic guidance, campaign management and many other marketing facets."
Often approached by businesses and brands already operational, Soto Group does lots of works to help refine and expand brand potential for businesses, their products and services.
"Once we understand the goals of business, we can advise on the brand positioning, messaging and corresponding marketing tactics that will drive this growth," said Arna Jade, Soto Group cofounder and award-winning incubator and entrepreneur coach.
Every brand, large or small should perform some degree of brand audit and reflection period every three to five years. This enables clarity on whether the brand is on course for its planned success, or is heading off track. "You can always change the trajectory for a brand," said Crouch. "The critical thing is to do it purposefully and for a good reason."
Soto Group is offering free brand/website audits to all readers of Fruitnet publications. Plus a 20 per cent discount on any projects engaged by new clients before the end of 2021.
Soto Group cofounder Matthew Crouch has been at the helm of some of Australia's largest fresh produce IP brands of the last ten years, including Sumo Citrus, Modi Apple and Tangold Seedless Mandarins. He won the 2016 MOYA (Marketer of the Year Award), and regularly writes for Fruitnet and other publications. He has always challenged that good branding and marketing does not have to come with a hefty price tag. But that good decision making through the brand building is priceless.
Since its founding, Soto Group has worked with growers, marketers, exporters, and supply chain service providers right across the Australia and New Zealand Fresh Produce Industry.