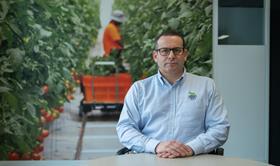 LaManna Premier Group's (LPG) chief executive Anthony Di Pietro has spoken openly about how he steered the leading fresh produce company through the challenges of the last two years.
In an interview with The Weekly Times, Di Pietro likened the Covid-19 pandemic to "wartime footing", saying; "The shelves were empty of fresh fruit and vegetables and the supermarkets were waiting and we had to deliver; you certainly knew you were alive."
Throughout the challenges, Di Pietro often looked to the experience of his grandparents, who grew vegetables near Mildura, for reassurance.
"In 1956 my grandparents' farm was wiped out by floods," he explained. "To this day, if I have a bad day or week in the business I can't go and cry on Dad's shoulder, because he just says that it's when you see your glasshouse washing down the main street of Mildura, then you know you've got a problem."
Di Pietro told the Weekly Times that when things are going bad, you just have to "get on with it."
"Work out your priorities and deal with the problems one by one," he said. "But it has been a continual rolling challenge. Of course, the health and safety of everyone in our business and their families was our first priority, but then it was about business continuity and making sure our doors stayed open.
"If a company like ours shut down it would have a major impact on the supply chain and many people and communities; we grow and supply between 20 per cent of all bananas in Australia and a big proportion of the red round loose gourmet tomatoes that you see in every supermarket trolley, as well as have a critical role in the wholesale markets. We can't just shut up shop."
He also paid tribute to LPG's staff, who endured what he called some "really tough times," adding; "It was very challenging on the frontline because they were exposed to the risks at a time when none of us really knew how this thing was spread and they then had to go home to their families."
DiPietro is the current president of the Australian Fresh Produce Alliance (AFPA), and said he is keen to play a major part in the Australian horticultural sector's rapid growth over the next decade.
"The big superannuation and pensions funds, as well as corporate investors, from both Australia and overseas, are all interested in funding the expansion of covered horticulture because it offers much reduced risk compared to other agribusiness investments and opportunities," he explained.
"But agriculture, and even covered horticulture, is a five, maybe 10-year cycle. I've had years, right on harvest, where our whole outdoor tomato crop at Shepparton was wiped out by a storm and it cost us millions, or we've lost an entire banana crop in cyclones. But there's other years when farming is highly profitable.
"It's a long-term game and as an investor you have to have patience and deep pockets."
Di Pietro confirmed LPG's plans for another 20ha of heated automated greenhouses to be built over the next five years at Lancaster, all growing protected tomatoes and perhaps other vegetables such as eggplants, capsicums and cucumbers hydroponically, heated using a new biomass generator.
"The focus must be on growing exports and developing new markets for more categories of Australian fresh produce – trying to emulate the success of table grapes and citrus to China if you like – because in the end it will make the whole Australian horticultural industry more successful."