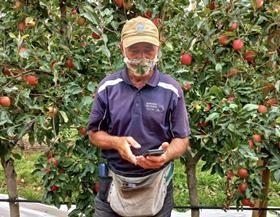 Stepping away from traditional paper based orchard management and into technology can seem daunting. Late harvest provides the perfect setting to make the move.
With the stress of peak harvest over, late harvest brings less pressure, the chance to settle into new practices and time to bed in changes.
DITCHING THE LABOUR PAINS
A severe shortage of labour has been a ground hog day reality for many growers, with a repeat of last season's struggles amplified by the continuation of Covid impacts. For growers still working with pen and paper, the volume of double and triple entering of information they and their teams do, only adds to the burden.
Now is a great time to consider implementing a smart, yet simple to use orchard management app that can capture all key tasks, such as labour management (digital timesheets, wages, piece rates, breaks and leave), job and R&M allocation, all harvest tasks, QC and reporting. With all of the data being captured in the app, hours, piece rates and minimum wage top ups can be automatically calculated, saving hours and hours of time.
RECLAIMING TIME
Canaan Balck, orchard manager at Hoddy's Orchard, a 60ha apple orchard, has been using the Hectre Orchard Management App for several years and says he'd never go back.
"Before we had Hectre, I would work hard six day weeks and then have to spend four hours of my weekend pulling together all of the paper timesheets and bin cards to put into spreadsheets for the payroll lady. I would hate to go back to that. Plus my writing was soo terrible!" he grins.
He adds that the transparency that Hectre's QC module brings is another great plus.
"We can record QC straight into the app and everyone can see it. If it's on paper, no one else can access it."
DIGITAL BIN CARDS, OR NOT
Nifty hand-held orchard printers spit out waterproof digital bin tickets with the push of a button at Fairfield Orchards, where 170ha of apples and kiwifruit are grown.
They too are using the Hectre Orchard Management App. QR codes or barcodes can be scanned at different stages of harvest, pulling through details of the pick, picker names, varieties and more.
Hectre's unique geo-tagging approach enables fruit to be tracedback to within metres of where it was picked. Heat maps show the pick moving through the orchard. It sounds very techie, and it is, but the simplicity of the app means anyone, even the more mature of us, and even those that have never picked up a device before, can quickly get the hang of it.
Flexibility is key and orchards using bin cards supplied by packhouses can simply scan those into the app to attach pick details.
PAYROLL PARADISE
If you see a frazzled person slumped in front of a screen, groaning at a stack of paper, you could well be watching the payroll torture experienced by those still clinging to old style pen and paper practices.
Paper timesheets don't miraculously get themselves into a computer. That's the tedious job of a payroll person (often the orchard owner or their partner). Hours and hours of labour and frustration go into chasing missing timesheets, entering data, checking, fixing calculations and re-checking.
In contrast, the entries made in an orchard management app, like Hectre, flow all the way through to timesheet and payroll reports, ready for uploading to payroll programmes.
DATA FOR DECISION MAKING
Perhaps one of the greatest benefits of using an orchard management app is the easy access to data on labour, costings, yields and revenue. Data that can support smarter decision making, that is available for lending needs and data that can highlight opportunities for improvement.
Bruce Nimon manages 110ha of apples and grapes at Kokako Farms and has his eyes on management data.
"Because we can see the block costs with Hectre, we've already gained insights on some blocks costing a lot more than the average. Job costings have also improved, saving us thousands," he says.
Company director, payroll guru, admin everything and the glue that holds Fairfield Orchards together, Cherie Drummond, loves having data at her fingertips.
"We have to be sharper and do everything more cost effectively to be able to successfully compete globally," Cherie explains.
"I use Hectre to help other managers plan their workflow, to see how we're performing against industry, what we've picked and where we'll sell that fruit, and to identify the ideal staff numbers for each job.
"When I can share the data with managers they see it's not just Cherie speaking, it's the data.'
If you would like to talk about moving to a simple to use, Orchard Management App like Hectre, contact the friendly team at hello@hectre.com or visit them online at www.hectre.com