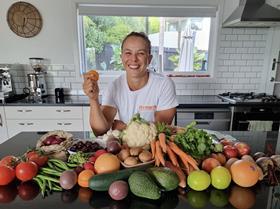 New Zealand's most successful Olympian, Dame Lisa Carrington,has signed on as an ambassador for the 5+ A Day Charitable Trust.
As part of the role, the champion kayaker will share her favourite recipes and tips for making the most of seasonal fruit and vegetables.
Carmel Ireland,project manager of the 5+ A Day Charitable Trust, said Carrington would inspire New Zealand families to make healthier choices.
"Dame Lisa is an ideal ambassador for healthy lifestyle choices – she's not only an incredible sporting superstar but is also an excellent role model for tamariki (children) and their families," Ireland explained. "Her genuine love of supporting the health and wellbeing of whanau (family) shines through."
Carrington will be sharing her recipes and top tips on her social media channels and those of 5+ A Day.
As a professional athlete on the world stage, Carrington said nutrition has played a critical part in her daily routine.
"I'm really excited about teaming up with 5+ A Day because I love fruit and vegetables," Carrington explained.
"There are so many amazing things to share – from my journey mastering recipes with high nutritional benefits, to understanding what's in season and knowing how to get the most out of produce."