Vailima Orchards supervisor takes home 2022 title while Miriana Stephens awarded President's Trophy and Michael Ahern recognised with Industry Service Award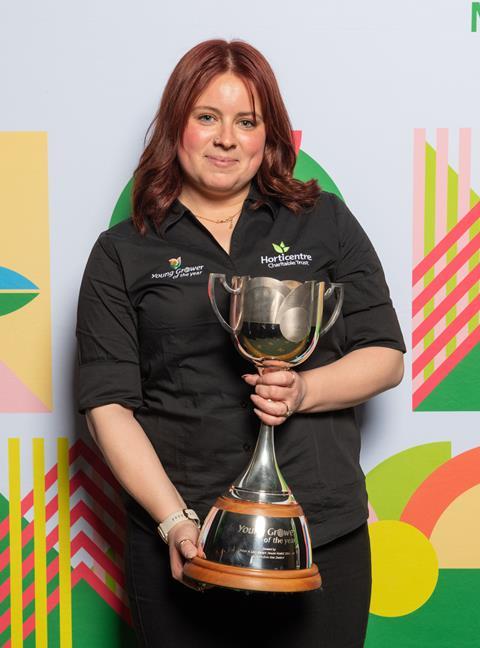 Meryn Whitehead has won the 2022 Young Grower of the Year competition as Horticulture New Zealand recognised some of the industry's top contributors with its annual awards.
Miriana Stephens, director of Wakatū Incorporation, was awarded Horticulture New Zealand President's Trophy, meanwhile, horticulture industry stalwart, Michael Ahern, won the Horticulture New Zealand Industry Service Award.
Whitehead, a 28-year-old supervisor at Vailima Orchards, was one of six contestants that vied for the grand title in a series of practical and theoretical horticulture modules across two days.
"It is a real privilege to be named the winner of this year's competition, especially given the impressive talent on display," said Whitehead.
Despite being Whitehead's second year entering the competition, she said the experience has been nonetheless valuable.
"It has been an amazing experience that has boosted my confidence, provided networking opportunities and developed my horticulture skills. Taking part in this event and meeting other passionate growers has reaffirmed my passion for this career and my love of growing," said Whitehead
"Horticulture is such a rewarding industry to be involved in, with so much potential and opportunities for all. I can't wait for what the next chapter in this industry brings."
HortNZ president Barry O'Neil said the calibre of this year's contestants was been exceptional.
"It's great to see such multi-talented young people emerging as the horticulture industry's future leaders. Horticulture has had more than its fair share of challenges over the past couple of years, especially with labour supply, adverse climate events, shipping disruptions, and the increasing cost and complexity of growing," said O'Neil.
"These young people are well aware of these challenges and will be the generation who lead our industry through the next phase of this industry's development."
President's Trophy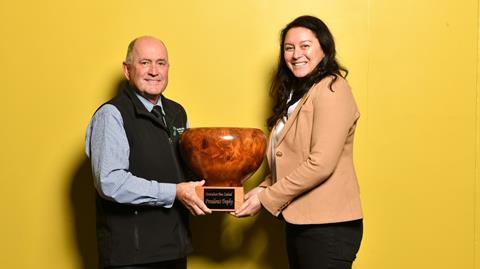 Miriana Stephens won 2022 the Horticulture New Zealand President's Trophy, for her work "shaping the future of the horticulture industry by example" said O'Neil.
"She is a director of Wakatū Incorporation, which grows apples, kiwifruit and pears in its Motueka Orchards under the business, Kono," said O'Neil.
"To Miriana, business is not just commercial – it involves being a kaitiaki of the whenua and moana, as well as being commercially responsible."
Stephens is also involved in several governance groups and was a founding member of the Primary Sector Council. In 2016, she was awarded the Aotearoa New Zealand Māori Woman Business Leader award.
Stephens said she loves the horticulture sector as well as Aotearoa.
"However, it is tough out there at the moment. That is why we must work together as a sector to realise our potential," said Stephens.
"I look forward to the future and what we can achieve together, despite our challenges."
Industry Service Award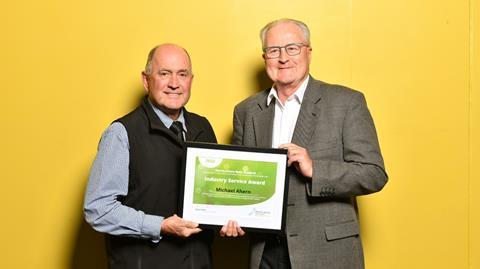 Michael Ahern was recognised for his contribution to the development of New Zealand's horticulture industry over the past 40 years with the 2022 Industry Service Award.
"Mick is known for his common sense and ability – after everyone else has exhausted themselves with talking – to sum up the situation and provide wise counsel, while pointing to the best if not only way forward," said O'Neil.
Ahern started out in the 70s as a university student writing a case study on the kiwifruit industry's development. That lead to roles in the then fledgeling, kiwifruit export industry.
"He then went onto further develop his career in the export onion industry, which in turn led to a position exporting a wide range of horticulture products,' said O'Neil.
'Next, Mick turned his attention to consulting, with an emphasis on export businesses and industry good organisations. That is certainly where he has focused in the past ten years, with undisputed success in the onions and strawberry areas, leaving behind fit for purpose organisations with a focus on the future.'
O'Neil said most recently, Ahern has been the driving force behind getting market access for strawberries in Vietnam.
Ahern said horticulture industry leaders have one hell of a job contending with current challenges and the industry needed to highlight the wide range of opportunities available.
"That is why they (industry leaders) need the industry's support to deal with the volume and complexity of challenge and change that the industry faces," Ahern said.
"The horticulture industry seems very grower oriented but there are many, many worthwhile careers in other, important areas of the industry."