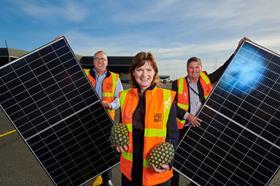 The Melbourne Market Authority (MMA) is investing A$13m into a new large-scale solar car park canopy project, which will see six canopies house a 1.95 megawatt roof-top Solar PV System to support on-site energy demands.
A total 4,332 individual solar panels will be installed to form the car park canopy roof, saving approximately 960 tonnes of CO2 emission per year, the equivalent of planting 28,660 trees.
Along with two other roof-top solar systems on the market site, the additional 2.2ha of the new solar canopy will bring the Melbourne Market's total renewable energy capacity to approximately 2.50 megawatts.
The canopies also have the capacity to harvest 8.2m litres of rainwater annually, reducing the site's reliance on water reserves.
'The Melbourne Market Authority are continuously looking for ways to reduce our environmental impact while providing logistical efficiencies for our tenants and market users," said chairman Peter Tuohey.
'The Melbourne Market is already a world-class facility with award-winning environmental credentials, and we're pleased to commence this project that will benefit our market users and aligns with the MMA's sustainability objectives.'
Victorian minister for agriculture, Mary-Anne Thomas, visited the site on Tuesday 30 March to mark the beginning of the construction.
'The Melbourne Market is a world-class facility with a crucial role in the marketing and distribution of Victoria's fresh produce across the state," said Thomas.
'Our Agriculture Strategy envisions a sustainable, low-emissions industry and initiatives like the Melbourne Market's solar canopy project are a great example of this."
The solar canopies will add significant environmental benefits to the site, but Melbourne Market users will benefit from the canopies' primary purpose, providing additional undercover parking.
The canopies will create 100 undercover rigid truck parking bays and 200 loading bays.
'We're pleased to see this project come to life, that while reducing the site's environmental impact will ultimately provide market users with more logistical space to conduct business, protected from the elements,' added Mark Maskiell, chief executive of the MMA.
Construction is due to begin this month and It is estimated the canopies will be completed by March 2022.