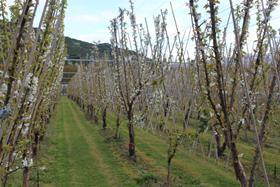 New Zealand's horticulture industry is set to receive NZ$38.5m (US$20m) from the country's government to access imported plant varieties and breeding material.
The funding, which will be spread over the next four years, was announced as part of the New Zealand government's 2020 budget.
The initiative also includes NZ$6.8m (US$4m) worth of investment from New Zealand's Ministry for Primary Industries (MPI) to secure greenhouse units for the imported material.
Damien O'Connor, agriculture minister of New Zealand, said this funding will allow the country's horticulture industry stay ahead of international competition and focus on reaching new markets.
"This will help the high-performing sector to develop innovative high-value crops and cultivars, while protecting New Zealand from high-impact pests," O'Connor said.
The budget is also set to address the issue of labour in horticulture and the impact of the coronavirus (Covid-19) pandemic by providing NZ$19.3m (US$11.5m) across the next four years to help the recently unemployed access training and work opportunities.
This initiative aims to place at least 10,000 New Zealanders in primary sector jobs, a sector that offers some fantastic career opportunities according to Mike Chapman, chief executive of HortNZ.
"We're really keen to see as many kiwis as possible join horticulture as part of New Zealand's economic and social recovery," Chapman said.
"At the same time, we will still need skilled workers from the Pacific under the Recognised Seasonal Employer (RSE) scheme, particularly as we will not have the backpacker community to fill gaps," added Chapman.

'The RSE scheme has played a key role in our industry's expansion over the past decade, which in turn, has created hundreds of jobs for kiwis. We do not see that situation changing."