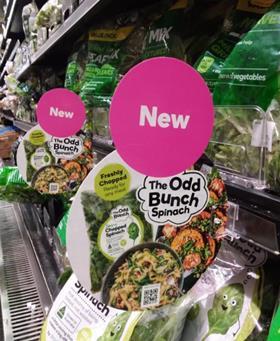 Australian spinach growers look set to reduce food waste and harvest more of their crop with the launch of a new 'Odd Bunch' range at Woolworths.
The launch of the chopped spinach range will also make it easier and more affordable for customers to add more vegetables to their diet.
Created in partnership with salad and vegetable supplier One Harvest, out-of-spec or unused spinach is now carefully washed, trimmed, and packaged into the 'Odd Bunch' chopped spinach range, and is available to purchase in Woolworths supermarkets across the country.
Colm Farrell, Woolworths fruit and vegetable category manager, said: "As the fresh food people, reducing food waste is a huge priority for us, and our partnership with One Harvest continues to innovate the supply chain from farm to fork.
"Our Odd Bunch range combines sustainability with great value that benefits both Australian farmers and our customers. The innovation allows growers to sell more of their crop, while Australian families can enjoy more affordable fresh produce. Shoppers can save up to 40 per cent by choosing Odd Bunch products that taste just as great as the fruit and veg you see across the rest of our range," said Farrell.
Austin Lenord, a grower of spinach at Koala Farms added: "As a fast-growing crop, spinach leaves can often become too large and outgrow its product specification. At this point, it is still delicious, nutritious, and fit for consumption, but does not make it to the supermarket shelf.
"The idea of the Odd Bunch is extremely beneficial to the grower. The oversized product, which has no different nutritional value will minimise the wastage of fertilisers and water on farms making the process more sustainable," added Lenord.
While trialling the new Odd Bunch spinach, One Harvest discovered chopping the spinach allows a reduction in bag volume equivalent to 20 per cent less plastic compared to conventional whole spinach leaf salad bags.
Consumer demand saw spinach sales reach double-digit growth last winter, defying the usual trend of seasonal salad decline throughout the colder months of the year. Furthermore, fresh salad ranked 3rd in the Top 20 products of 2021.
Woolworths launched its Odd Bunch range in 2014 with the aim of saving near-perfect fruit and veggies from being wasted.