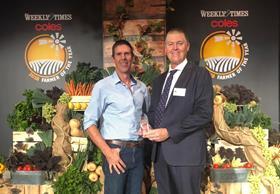 Piñata Farms, was named Horticulture Farmer of the Year at The Weekly Times Coles 2018 Farmer of the Year Awards on 22 February.
Piñata was the only Queensland company to win one of the six awards up for grabs.
Gavin Scurr, managing director of Piñata Farms, said the win was a tremendous surprise.
"The dedicated people who turn up to work at Piñata Farms every day actually won the award, as well as everyone along the supply chain who plays a part in getting our produce to market right through to the customers who buy our fruit," he said.
Coles chief executive Steve Cain said the award recognises the resilience of farmers.
"We want to celebrate the outstanding contribution that our farmers made in 2018 - and continue to make - by producing great quality food for Australian families all year round," he said.
Piñata farms grows, packs and markets pineapples, strawberries and raspberries, and owns the breeding rights to grow and market Honey Gold mangoes.