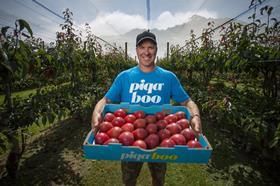 The highly anticipated 2020 season of New Zealand-grown Piqa Boo will officially be launched on 13 April by the New Zealand Piqa Boo Governance Organisation (GO Group).
Production of the bright red-skinned fruit, said to have a refreshingly tropical taste, has increased considerably over recent years, with the upcoming harvest prompting GO Group to form a collaborative approach to the marketing.
Consisting of exporters Fern Ridge Fresh, Freshmax, Integrow, PickMee, Yummy Fruit Company and Golden Bay Fruit, GO Group decided a global launch date would be an ideal way to kick start the new season.
Kurt Livingston of Fern Ridge Fresh highlighted the demand for the fruit as one of the key reasons the group took this approach.
"We know the fruit is in great demand and we have our customers just about biting our hands off for it, so we decided the best thing for the variety was to create some hype about it," explained Livingston.
"This launch allows us to be fair to all of our customers, everyone will get it at the same time.
"It's a great opportunity to separate the fruit from the rest, because no other variety is doing this."
The Piqa Boo breeding programme began in New Zealand in the 1980s, with the cross breeding of European, Japanese and Chinese varieties.
The variety was commercialised in 2014, with many of New Zealand's leading apple and pear growers encouraged to take up the challenge of growing the fruit.
Livingston said GO Group was anticipating a total harvest of 385 tonnes for the 2020 season, coming from approximately 60ha.
"Fruit picked this year is destined for sales domestically in New Zealand, as well as global markets including Taiwan, China, Singapore and Malaysia," he said.
Production volumes are set to rise over the coming years, as trees reach full maturity.
"The oldest commercial trees are six years old, so the variety is still in its infancy. Volume is expected to double next year as the younger trees begin to mature, and New Zealand growers are really keen to plant Piqa Boo, so we expect tree numbers to double over the next three years,' saidLivingston.
Along with the global season launch, GO Group is supplying its customers with information that will help them market the fruit.
"We provide the customers with the brand story material, including striking images of the people and families growing the fruit," explained Livingston.
"I think traceability is of huge importance and significance this season. Consumers are far more aware of their health and what they're eating.
"What we do allows our customers to showcase the environment the fruit is grown in, and that is really important," he added.
It's still early days in terms of commercialisation, but Livingston said GO Group is not resting on its laurels, especially when it comes to protecting the brand.


"We've got very accurate systems of traceability in place. Each orchard has a unique RPIN number, which we can use to trace each piece of fruit," explained Livingston.
"All of our growers have GlobalGAP certification, which helps prevent fraudulent use of the fruit."
As the season draws ever closer, Livingston indicated GO Group will be looking for two key performance indicators to class the season a success.
"We will know it's successful if we get positive feedback from all customers and consumers. Sure, fruit selling fast is a good thing, but feedback telling us consumers love it is always the best," he said.
"It motivates us to do well and to provide a good follow up season, year-on-year.'