Seed funding awarded to five ag-tech projects as part of Queensland Fruit & Vegetable Growers' Future Fields strategy
Streamlining on-farm compliance, an innovative ag-tech solution for Australia's pineapple industry, and drone technology solutions in organic bananas are just some of the projects that have just been funded under the Queensland horticulture industry's 'Grow Your Field' seed funding opportunity.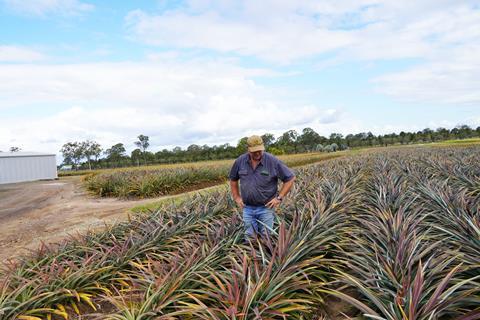 Administered by the Queensland Fruit and Vegetable Growers (QFVG) through support from the Queensland Department of Agriculture and Fisheries., this competitive funding round sought to find projects aligned with the industry's Future Fields strategy, which sets out the vision for Queensland's fresh produce sector over the next ten years.
In the first stage of Future Fields, the sector has prioritised the strategic work areas of coordinated compliance, to be bio-strong, innovation to access markets, and working smarter together.
QFVG head of engagement and advocacy Angela Seng-Williams said that from Innisfail to the Granite Belt, and across diverse areas like ag-tech, first nations foods, and compliance, it's clear there are a lot of great ideas growing in Queensland horticulture.
"The quality and range of applications received demonstrates that growers, their agribusinesses, and social enterprise across the state are doing some brilliant work that will better our sector and have meaningful impact," Seng-Williams said.
"We can't wait to see these projects come to life over the next 12 months and we will be following their progress with optimism and anticipation."
The 'Grow Your Field' seed funding recipients included Jah Farming, which received A$19,000 to support investment in drone technology for precision protectant spraying and placement of beneficials as part of efforts to future proofing organic farming in Tropical North Queensland.
Wide Bay Pineapples received A$19,000 to further develop its Pick & Leave Pineapple Technology, an ag-tech solution to automate pineapple picking based on sugar level in a controlled traffic system.
Jenn McKee and Taylor Family Produce received A$13,000 for review of compliance landscape and practical recommendations for streamlining requirements to assist horticultural growers in Queensland.