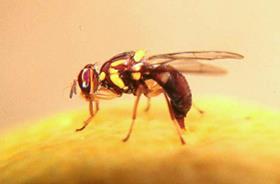 A third fruit fly detection has been recorded in the New Zealand city of Auckland. The Queensland fruit fly was officially identified yesterday 20 February as a male and was found on Auckland's North Shore.
The Ministry for Primary Industries (MPI) said this does not mean New Zealand has a fruit fly outbreak.
"We are totally focused on finding out if there is an incursion of the Queensland fruit fly in these areas," said MPI director general Ray Smith. "At the moment, there are 2 single males found quite some distance apart, and there's no evidence of a breeding population.
"We have an absolute commitment to tracking down these unwanted pests and ensuring New Zealand is free of harmful fruit fly," he said.
The MPI has commissioned an independent assurance review of Auckland's air and cruise passenger pathways which will begin next week.
Control zones are now in place for the suburb of Devonport and Northcote where Queensland fruit fly were detected, as well as Otara where a single facialis fruit fly was detected. MPI stated the two cases are being treated as separate.