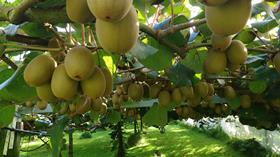 Seeka has almost completed the sale of all the Northland orchards it purchased from T&G Global in 2018 after announcing another NZ$10.1m (US$6.3m) sale.
This sale is part of a wider strategy of divesting the Northland orchards since it acquired the orchards and related post-harvest business two years ago.
The strategy has involved refurbishing and selling the orchards with committed supply, alongside a significant rebuild of the postharvest facility to handle kiwifruit, avocados and citrus. In a release the company said it has received strong local support and increased demand for its services as a result.
The gross sales completed to date total $51.7m and Seeka said it still has a small number of Northland orchards to sell. The company is working through the process with the expectation to substantially complete the strategy in 2020.
Seeka said proceeds from the sale will be used to reduce debt. On 31 December 2019, the company's net debt totalled NZ$116.8m (US$73m) and this will be reduced by NZ$10.1m (US$6.3m) and another NZ$4.95m (US$3.1m) from an unrelated unconditional sale.