A partnership linking Australia, South Africa and France reveals new international trademark for Bravo-branded apples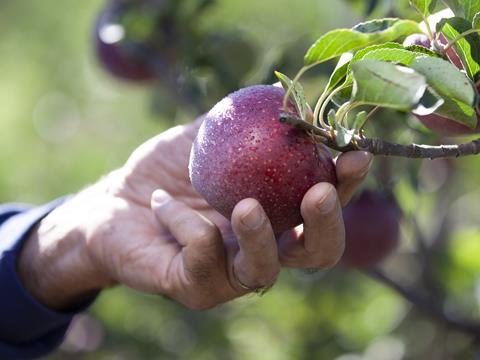 Soluna has been announced as the new international trademark for the Australian-bred burgundy-skinned apple variety branded as Bravo.
The apple's new name for the worldwide stage was chosen to embody the moon and the sun, reflecting the apple's striking dark skin and creamy yet crisp, white flesh.
The variety, ANABP 01, was developed by renowned apple breeder John Cripps who also developed the Cripps Pink variety, which has achieved prominence under the Pink Lady brand, in 1992 as part of a West Australian government breeding programme. There are currently more than 90 growers producing the variety in Australia.
International commercialisation is being managed by TopStar – a co-venture between Star-Fruits (France) and TopFruit (South Africa) – along with Australian license holder Fruit West and marketer WA Farm Direct.
Together they plan to roll out an effective global development strategy, which includes managed quality standards and marketing.
Spokesperson for the partnership Liza Matthews said the positioning of the brand is of "something different, something delicious and something real".
"Consumers are all looking for something special and healthy but yet authentic. An everyday indulgence that makes them feel good and is good for them," said Matthews.
"They are all looking for something real, and that something is Soluna. Millennial consumers, who will make up the largest segment of our buyers moving forward, simply do not accept any trade-off between the quality and the impact of how a product is produced and marketed."
The new Soluna branding will be officially launched at Asia Fruit Logistica in Bangkok on 2-4 November, giving importers, wholesalers and retailers from across the globe an opportunity to learn more about the apple.
"The Soluna brand story of quality, and responsible practices align perfectly with this new premium positioning. The combination of striking looks, great taste, slow oxidation, health benefits, long shelf life, responsible production, and a unique brand awareness building approach which will refresh the premium branded apple category," said Matthews.
"Sound business ethics and the support of responsible agricultural and business practices are in Soluna's DNA. Like-minded partners will be selected that are already aligned with our technical and corporate social responsibility standards."
Australian boost
The variety will continue to be marketed as Bravo in Australia were growers continue to expand production and Western Australia's agriculture and food minister Alannah MacTiernan said the move would support the local industry and help build international demand for the apple. Exports of Australian-grown Bravo apples grew 450 per cent this year with key markets including Hong Kong, Indonesia, Singapore, Thailand, Malaysia and the UAE.
"Building demand internationally will drive industry expansion in Western Australia and ensure we benefit from the intellectual property and continued research and development," said MacTiernan.
"International commercialisation for this variety is the natural next step for this West Australian-bred apple, bred by the late John Cripps and having the same pedigree as the iconic Pink Lady apple, with its own desirable qualities to capture a whole new following of fruit lovers."