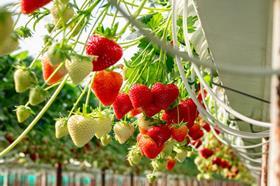 T&G Fresh – the New Zealand domestic business of T&G Global – will test, grow and market unique strawberry varieties from California-based Plant Sciences Incorporated (PSI).
Andrew Keaney, managing director T&G Fresh, said the exclusive deal is aimed at providing New Zealanders with bigger, tastier strawberries year-round.
"We're very excited about the prospect of working with the PSI team and, through our expert growers, bringing these great premium varieties to Kiwi consumers," Keaney explained.
"We'll be working with our New Zealand strawberry growers over the coming months and years to trial and transition to these exciting genetics, and we'll also be the first port of call for any growers who want to include PSI berries in their operations."
Keaney said initial feedback from early trials was encouraging, with yields, fruit quality, shelf-life and harvesting efficiency all performing well.
"As well as looking at superior flavour, texture, shelf-life and colour, we're also focused on developing varieties that reduce growing costs and increase productivity," Keaney said.
"We have a range of varieties that are suitable for various growing methods, such as tunnel house, outdoor table-tops and traditional field production. Labour is a significant and ever-increasing cost, so developing and choosing varieties that are easy to harvest is also a focus for us."
PSI has been at the forefront of innovation in small fruits plant breeding since it was set up in 1985. Its exclusive genetics are being grown in more than 50 countries around the world.
"We are excited about the opportunity to bring innovative varieties to the New Zealand strawberry industry," said Scott Nelson, head of global development for PSI.
"Working closely with both T&G Fresh and their growers, we believe higher yields, better flavour and increased shelf life are achievable traits that will not only increase the margins to the farm but give consumers better tasting and longer lasting strawberries for their families."
T&G Fresh was launched in May 2020 after acquiring Freshmax New Zealand's domestic division. The business spans the entire fruit and vegetable supply chain, from supplying retailers, in-home delivery partners, foodservice providers and quick service restaurants, through to growing its own produce and working with over 1,000 growers in New Zealand and across the world.
Keaney said T&G Fresh is focused on growing brands and investing in new categories, as well as harnessing innovation and technology to become a world-class producer.
"We're interested in scouring the world to secure the best genetics so that we can build our capability at every step of the supply chain, from growing right through to sales," Keaney explained.
"The deal [with PSI] demonstrates our commitment to developing strong IP and partnering with other passionate growers to enable the year-round supply of the tastiest berries for consumers."