Orchard to assist research into fruit growing conditions to make sorting and grading even more effective
Tomra Food has revealed the first details about its new research orchard in New Zealand set to enhance the company's fruit science programme and improve its sorting and grading solutions.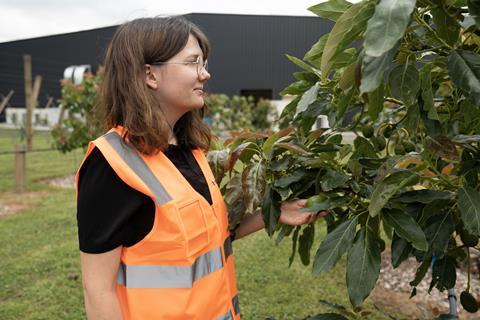 The research orchard occupies a 2.5ha plot in Waikato, New Zealand, next to the company's 5,100m² Field Research Centre, which opened in 2022.
TOMRA Fresh Food's field research manager, Richard Pickard said the orchard is set to provide a number of benefits.
"The orchard's purpose is to monitor the flowering and fruiting of plants at each stage, adding to our understanding of the core commodities handled by our sorters and graders. We will assess fruit defects, quality issues, and key characteristics such as flavour, sweetness, and firmness," said Pickard.
"This complements our fruit science programme, which for ten-plus years now has been researching how the chemical and physical properties of fruit correlate with fruit quality and sorting requirements."
Almost half the orchard's ground area has so far been planted, with three varieties of kiwifruit, five varieties of apples, four varieties of cherries, and avocados. Lemons, mandarins, limes, oranges, and blueberries will also be planted in the coming weeks. Fruits are being cultivated both conventionally and with experimental techniques, including UFO (upright fruiting offshoot) cherries, FOPS (future orchard production system) apples, and under-cover in-bag blueberries.
Cultivation at the research orchard is also forward-looking in its mindfulness of sustainability. Environmentally-friendly materials, such as bamboo, biodegradable tapes, and organic fertiliser are used wherever possible. Water irrigation is controlled by an integrated solar system with inground moisture meters, which can override the solar system to reduce water waste. And mulch, pruning, and cut grass are returned to the soil.
Tomra Fresh Food's commodity science team lead, Brittany Jaine said the company has one of the world's largest libraries of fruit data, acquired from hundreds of thousands of fruit samples and analysed for factors such as flavour, firmness, storage potential, defects, and the influence of weather conditions.
It is this strong scientific foundation of fruit knowledge that the research orchard will build on.
"For scientific studies, we need high-quality data plus an understanding of the full history of each piece of fruit we analyse. The research orchard provides a controlled source of fruit, where we know all pre- and post-harvest conditions, such as climate, irrigation, sprays, and handling. From this base, we can draw accurate conclusions with confidence," Jaine said.
"By obtaining more detailed information about the pre-and post-harvest physiology of our core commodities, we will gain even greater insights into the quality challenges faced by our customers, how and why they occur, and how best to detect them when sorting and grading.
"Customers will also be able to visit our orchard and discuss the challenges they face. Replicating these challenges in-field will enable us to understand their problems and develop the best possible solutions fully. This will help strengthen Tomra's position as the leading provider of the world's most effective sorting, grading and post-harvest solutions."