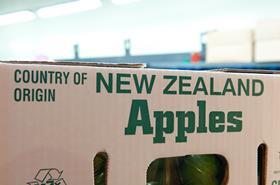 The UK and New Zealand have officially signed a new free trade agreement eliminating tariffs for a number of horticultural products.
The terms of the FTA were first agreed inprinciple in October 2021 and UK international trade secretary Anne-Marie Trevelyan and New Zealand minister for trade and export growth Damien O'Connor signed the deal on 28 February 2022.
A number of New Zealand fresh produce exports already supply the UK market and will have improved access as a result of the bilateral agreements.
The New Zealand apple industry is one of the major winners of the new deal, it currently exports NZ$63.6m (US$42.9m) worth of fruit to the UK with a seasonal tariff of up to 8 per cent.
Under the new FTA, tariffs on New Zealand apples will be eliminated over three years with a 20,000 tonne duty-free off-season quota (January-June). Duty-free access will be granted year-round after this period.
UK tariffs of 8 per cent on New Zealand onions and kiwifruit will be eliminated immediately, New Zealand currently exports NZ$8m and NZ$4.4m of each product to the UK respectively.
Peak industry body New Zealand Apples and Pears (NZAPI) had previously welcomed the FTA which also reduces the tariffs on pears to zero.
"The United Kingdom is a very important market for our apples and pears, regularly featuring in the top two or three markets by volume. Having a comprehensive FTA and the phasing out of tariffs will ensure that our New Zealand growers will be able to continue to provide UK consumers with the opportunity to experience the unique taste and quality of New Zealand apples and pears in a more welcoming trade setting," said former NZAPI chief executive, Alan Pollard.
For more insight into what theUK-New Zealand free trade agreement will mean for the fruit sector read Fruitnet's previous coverage.